Artificial Intelligence (AI) in Processor Market
Global Artificial Intelligence (AI) in Processor Market Ecosystem By Product, By Component; By Technology; By Industrial Vertical (Automotive, Consumer Electronics, Others); By Region and Forecast - 2027
|
|
Category : Information Technology
|
Report Format:




The AI in processor market was valued at US$73.182 billion in 2019. Increasing data size on account of the proliferation of connected devices and growing high-speed internet connectivity is a key driving reason for the global AI processor market growth.
Artificial Intelligence (AI) in processor Market will grow more than twice in the next 5 Years. The IT industry is witnessing a lot of transformations and growth with new technological breakthroughs like "Artificial Intelligence processor". Demand from the communications, data processing, and consumer electronics sectors is largely driving this market. The AI Processor and System on Chip (SoC) will make up most of the total market over the forecast period. The rising acceptance of IoT has also led to a need for powerful smart electronics, which in turn, has increased the demand for powerful AI-enabled Processors. Nvidia and Intel are the current leaders in this market, with upcoming competitors like GraphCore, Habana Labs, and Qualcomm.
The growth of AI-enabled processors will rise by 2022, as the autonomous automotive industry will require this Processor for powering the performance of cars' upcoming "full self-driving" abilities. The Renault-Nissan-Mitsubishi Alliance has planned to launch 40 vehicle models with autonomous drive vehicle technologies by 2022, which will open a larger market for AI processor manufacturers. New manufactured processor units are designed and optimized to quicken the performance of AI workloads and computations. Several companies, including Apple, Samsung, and Tesla, are developing their own AI Processor, which are customized to the requirements of their products. Recently, Apple has created its A12 Bionic for iPhone XR and iPhone XS smartphones. The product includes a neural engine for Face ID and Animoji (animated emoji) applications, and it contains an image processor for computational photography and pixel processing functions. A12 offers 15% improved CPU performance for the performance cores and a 50% lower power consumption for the efficiency cores. According to our estimates, the AI processor market is expected to witness a growth of ~25% CAGR from 2020 to 2021.
The key and positive trends of the segment include:
Increasing focus on human-aware AI systems.
Growing adoption of deep learning and neural networks
To learn more about this report, request a free sample copy here: https://www.alltheresearch.com/sample-request/315
Today, companies are investing more in AI software and technology and with this, there is a drastic rise in the number of startups that are targeting new AI processor manufacturing to meet the unique processing requirements by AI workloads. The top 19 AI semiconductor startups working on AI-enabled processers are based in the US. These startups are working on building deep-learning Processor, neuromorphic Processor, etc., which try to imitate the way human brain functions. This is going to raise the number of Processor produced and will increase the competition in the market, thereby affecting the pricing of processers. The rise of AI will almost certainly be the most powerful driving force in the semiconductor industry for the coming decade. Maximum AI startups are based in the US and Europe, whereas in the Asia-Pacific region, countries like China, Japan, India, Singapore, Taiwan, and South Korea are driving AI Processor innovation through various incubation hubs. For example, Chinese startups like Cambricon Technologies, Horizon Robotics, ThinkForce, and DeePhi Technologies, have cumulatively raised $300 million in venture capital funding.
Artificial Intelligence (AI) in Processor Market Report Scope:
A study is an effective tool for addressing Research insights relevant for business strategies like:
New product launch
New client acquisition
New opportunity mapping (market level and geography level)
Competitive benchmarking
Cost optimization strategies
Inorganic expansion plans
The Segment study of Component types includes an analysis of Micro Processors, ASIC, CPU, FPGA, GPU, Others. The market segments are identified and analyzed keeping in mind the AI in Processor market.
By Product, the global Artificial Intelligence (AI) in processor market is segmented into:
Smartphones
Wearables
Automotive ADAS & Infotainment Devices
By Technology, the global AI in processor market is segmented into:
Predictive Maintenance/Self Diagnostics
Machine learning
Deep learning
NLP
Computer Vision
Predictive Analytics
Others
By End User, the global AI in processor market is segmented into:
Automotive
Consumer Electronics
Others
Global Artificial Intelligence (AI) in processor market:
At present, the US dominates the artificial intelligence processor market owing to technological advancements. Increasing penetration of HUD screens in luxury cars, smart wearables, smartphones, etc., will raise the adoption of AI solutions in Europe. Asia-Pacific is still in the early stage of this technology, but China is currently dominating the AI processor market. China is gradually competing with the U.S. in technological innovation in AI processor. Leaders such as Nvidia are supplying GPUs adapted for AI training loads to Microsoft, Amazon Web services, and Tesla. But gradually, Google, Facebook, Huawei, Alibaba, Baidu, and Amazon are becoming active in this area, as these companies feel that they can also produce AI Processor that will address their specific needs and trade-offs between performance and power consumption.
Major players operating in the Global Artificial Intelligence (AI) in processor market are as follows:
| | | | | |
| --- | --- | --- | --- | --- |
| Company | Market Positioning | Total Revenue (US$) | Industry | Region |
| Nvidia | Hardware Manufacturers | $ 11.7 Billion | Semiconductors | Global |
| Intel | Hardware Manufacturers | $70.8 Billion | Semiconductors | Global |
| Qualcomm | Hardware Manufacturers | $22.73 Billion | Semiconductors | Global |
| Samsung | Hardware Manufacturers | $210.9 Billion | Semiconductors | Global |
| ARM | Hardware Manufacturers | $1.39 Billion | Semiconductors | Global |
Very few markets have the interconnectivity with other markets like AI. Our Interconnectivity module focuses on the key nodes of heterogeneous markets in detail. CPU, GPU, Machine learning, and Consumer Goods markets are some of our key researched markets.
Glance on Artificial Intelligence (AI) in processor market Trends:
New processors from Intel and AMD provide higher processing power, especially for the healthcare industry.
Processors are developed natively with more security and encryption, especially for Aerospace & Defense.
Increasing usage of voice-based commands in the Next-Generation Transportation and Logistics industry will fuel the growth of NLP.
Companies profiled in Artificial Intelligence (AI) in processor market are:
Apple Inc.
Huawei Technologies Co. Ltd.
MediaTek Inc.
SAMSUNG
Qualcomm Technologies Inc.
Alphabet
BAIDU
Graphcore
Intel Corporation
Major Interconnectivity in Artificial Intelligence (AI) in Processor Market Ecosystem: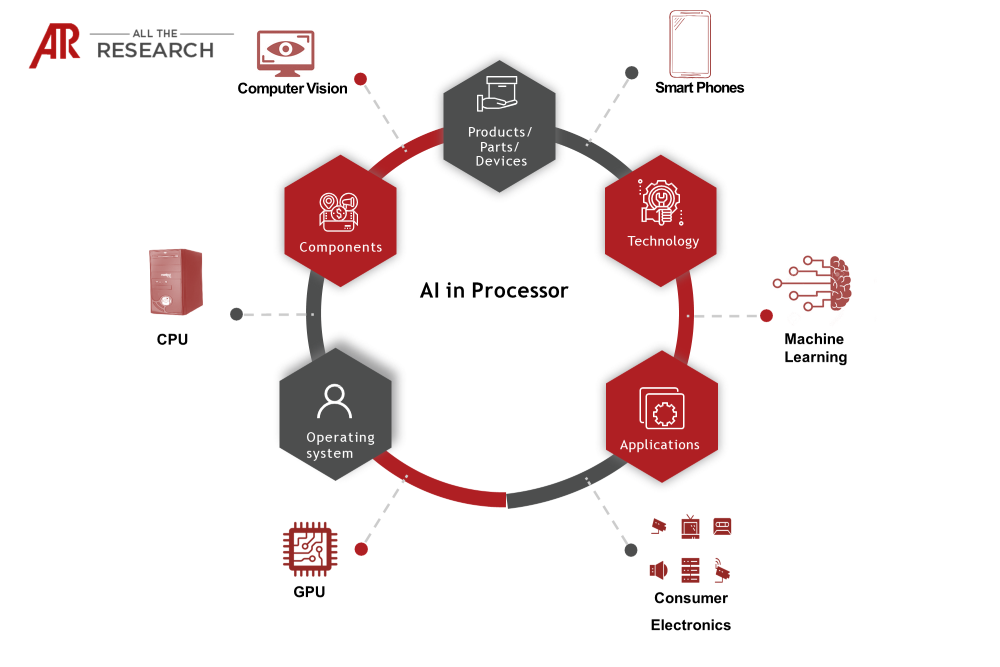 Need specific market information ?
Ecosystem Report – Table of Content
Introduction

Global AI in Processor Ecosystem Definition
Scope of study
Annual SaaS

Executive Summary

Global Market Segmentation
Global Market Overview

Mega Growth Drivers
Major Growth Blockers

Global Market Statistics

By Investment

AI in Processor Ecosystem Industry Player
Investment Companies

By Market Revenue / Shipments/ Price Points

Mega Trends
Competitive Landscape

SWOT
PEST
Company Ranking

Market Attractiveness

By Segment Level
By Geography (Region/Country)

Interconnectivity

Allied/Interconnected Markets
Allied/Interconnected Technologies
Allied/Interconnected Applications
Allied/Interconnected End Users
AI in Processor Ecosystem Positioning
Global AI in Processor Ecosystem Snapshot

AI in Processor Broad Heads

Demand Side

Supply Side

Global AI in Processor Ecosystem Segmentation

By Component

Micro Processors
ASIC
CPU
FPGA
GPU
Others

By Product

Smartphone
Wearables
Automotive ADAS & Infotainment Devices

By Technology

Predictive Maintenance/Self Diagnostics
Machine learning
Deep learning
NLP
Computer Vision
Predictive Analytics
Others

By Industry Vertical

Automotive
Consumer Electronics
Others

Geographic Overview

North America

U.S.
Canada
Mexico

Europe

U.K.
Germany
Italy
Spain
France
Rest of Europe

APAC

India
Japan
China
South Korea
Taiwan
Rest of APAC

RoW

Middle East
Africa
South America

Competitive Landscape Mapping by Ecosystem Positioning

Company by each node
Vendor Landscaping
Ecosystem Level Analysis
Global AI in Processor Ecosystem Broad Heads

Competitive Landscape Mapping by Ecosystem Positioning

Company by each node
Vendor Landscaping
AI in Processor Ecosystem Trend Analysis
Global AI in Processor Ecosystem Trends

Trend Mapping

Trend Description
Trend Evaluation

Impact
Importance
Remarks

Trend Outlook (Short, Mid, Long Term)
Trend Company Mapping
Related AI in Processor Ecosystem Mapping
Trend Region/Country Mapping
AI in Processor Ecosystem Regulatory Analysis
Overview

Regulatory Mapping
Regulatory Impact
Regulatory Interlinkage
AI in Processor Ecosystem Sizing, Volume, and ASP Analysis & Forecast
Global AI in Processor Ecosystem Sizing & Volume

Cross-segmentation
Global AI in Processor Ecosystem Market Sizing and Forecast
Global AI in Processor Ecosystem Volume Analysis
Average Selling Price Analysis
Global AI in Processor Ecosystem Growth Analysis
AI in Processor Ecosystem Competitive Intelligence
Competitive Intelligence

Top Industry Players vs Trend Tagging

Importance
Trend Nature (Positive/ Negative)
Value
Interconnectivity for each vendor

Global AI in Processor Ecosystem Share Analysis

By Each Node

Strategies Adopted by Global AI in Processor Ecosystem participants

Global AI in Processor Ecosystem Strategies

New product launch Strategies
Geographic Expansion Strategies
Product-line Expansion Strategies
Operational / Efficiency building Strategies
Other Strategies
AI in Processor Ecosystem Company Profiles
Company Profiles (Total available company profiles for this market are around 103, this is a sample list of companies. Please write us at contact@alltheresearch.com for details)

Microsoft

Company Fundamentals
Subsidiaries list
Share Holding Pattern
Key Employees and Board of Directors
Financial Analysis

Financial Summary
Ratio Analysis
Valuation Metrics

Product & Services
Client & Strategies
Ecosystem Presence
SWOT
Trends Mapping
Analyst Views

Intel
Qualcomm
Google
IBM
Micron
Nvidia
Samsung
Apple
Xiaomi
Huawei
LG
Amazon
Fitbit
Oracle
Biobeats
Garmin
Sony
Motive
Huami
AI in Processor Ecosystem Developments
Market Developments

AI in Processor Ecosystem Events & Rationale
R&D, Technology and Innovation
Business & Corporate advancements
M&A, JVs/Partnerships
Political, Macro-economic, Regulatory
Awards & Recognition
Others
Customizations
Ask for Customization

Sensitivity Analysis
TAM SAM SOM Analysis
Other Customization

Appendix

Sources
Assumptions
Contact