Global AR VR for Training Market
Global AR VR for Training Market Ecosystem By Product; By Solutions; By Component, By Raw material By Region; By End Users (Automotive, Retail, Defence, Aerospace, Consumer Industry, Others); By Region and Forecast - 2026
|
|
Category : Information Technology
|
Report Format:




Global AR VR for training market ecosystem was valued at US$ 1,606.6 Mn in 2018 and is expected to reach US$ XX Mn by the end of the forecast period, expanding at a CAGR of 44.10% during the period from 2019 to 2026. Simulation and training exercises have evolved rapidly over the past few years. The evolution was imperative in order to provide the workforce with a more holistic experience that would ultimately result in a better final output. AR VR are examples of technologies that have contributed to the evolution of training & simulation exercises over the past few years. Industries such as aerospace, defense, retail, and healthcare, among others, account for a greater market share in the AR VR for training market ecosystem.
For instance, The Camfil Group, a manufacturer of clean air products and air filters, joined hands with Mersus Technologies to develop 'The Camfil Experience', which is an immersive virtual reality environment used for technical training that features a digital twin of Camfil's products. Using Oculus Go VR headsets, maintenance engineers can learn to identify, install, and maintain air filters with greater efficiency and safety. Further, The Raymond Corporation, a provider of lift trucks, uses virtual reality learning tools to improve the trainer and trainee experience. The VR simulator allows lift truck operators to learn in a virtual environment using an actual truck and controls that are plugged into Raymond's Simulation Port (sPort). This entire exercise is performed under expert guidance. Real-time experience has garnered much popularity, especially in terms of training. This helps personnel train and work more productively. These factors are greatly contributing to the growth of the AR VR for training market ecosystem.
Ecosystem Snapshot: AR VR for Training Market Overview
Based on products, head-mounted displays captured the major chunk of the market in 2018 and are expected to display similar trends in the coming years as well. HMDs are considered appropriate for training and simulation purposes, as they provide a superior degree of realism for training and simulation applications. They are lightweight, rugged, and easy to adjust, and they provide superior image quality and performance.
The defense industry is one of the largest end-users of AR VR for training purposes. Owing to the high demand for AR VR in the defense industry, in 2017, Kopin Corporation, an electronics manufacturer based in Massachusetts, launched the 'Brillian LCD Microdisplay', mainly for defense applications. Further, in September 2019, they announced the maiden design win for the display for an augmented reality HMD, which is to be used for army helicopter pilots. However, smart glasses are expected to display a CAGR of XX% during the forecast period.
AR VR for Training Market Ecosystem: Segmentation
| | | | | |
| --- | --- | --- | --- | --- |
| Products | Solutions & Services | Components | Raw Materials | End-use Industries |
| Handheld Devices | Documentation | Sensors | Silicon | Automotive |
| Head-Mounted Displays | Visualization | Camera | GaN | Defense |
| Smart Glass | 3D Modeling | IMU | Glass | Aerospace |
| | Navigation | Processor | Plastic | Healthcare |
| | Workflow Optimization | Graphics (Cards) | SiC | Retail |
| | Others | Audio IC's | Metal | Transport & Logistics |
| | | Memory | Others | Others |
| | | Displays | | |
| | | Modules | | |
| | | Others | | |
Global AR VR for Training Market Ecosystem:
Based on regions, North America is expected to display the fastest growth during the forecast period. Owing to its technological superiority, the U.S. is expected to maintain the lead throughout the forecast period. However, China is closing in on the U.S. to become the world leader in technology in the coming years. The Chinese market spending on augmented and virtual reality is expected to cross the US$ 66.32 Bn mark by 2022, with the CAGR expected to lie somewhere between 85% to 90%. Training and industrial maintenance are the major areas of applications for the augmented reality and virtual reality market in China.
The major players in the AR VR in training industry are mainly focusing on mergers and acquisitions, product expansion, partnerships, and other such strategies for strengthening their market presence. Sony dominated the VR technology and had accounted for 1.7 million shipments in 2017, followed by Oculus and HTC. HTC accounted for a shipment of approximately 800,000 units of VR devices, while Oculus accounted for the sale of approximately 1.7 million units of VR products in 2019.
AR VR for Training Market Ecosystem: Market Statistics Glimpse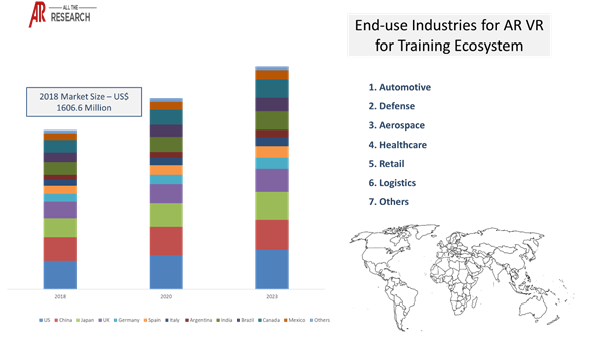 There are many trends that are having an impact on the market forecast. These, when evaluated from a company's perspective, can drive growth. Our numerous consulting projects have generated sizeable synergies across all regions and all sizes of companies.
AR VR for Training Market Ecosystem: Key Players
| | | | | |
| --- | --- | --- | --- | --- |
| Company | Ecosystem Positioning | Total Revenue | Industry | Region |
| Microsoft | Product Manufacturer | $110.4 Billion | AR VR Industry | Global |
| Google LLC | Product Manufacturer | $136.22 Billion | AR VR Industry | Global |
| Lenovo | Product Manufacturer | $14 Billion | AR VR Industry | Global |
| HTC Corporation | Product Manufacturer | $0.73 Billion | AR VR Industry | Global |
| Facebook | Product Manufacturer | $55 Billion | AR VR Industry | Global |

Very few markets have interconnectivity with other markets like AR VR. Our Interconnectivity module focuses on the key nodes of heterogenous markets in detail. Smart Sensors, 3D modeling, Silicon, and Head-Mounted Displays are some of our key researched markets
AR VR for Training Market Ecosystem Major Interconnectivities
A Glance on Global AR VR for Training Market Ecosystem Trends:
| | |
| --- | --- |
| Trends | End-use Industries |
| Virtual reality and augmented reality tools are used by fortune 500 companies to upskill their workforce. For instance, this may include training the drivers by using virtual headsets for tackling hazardous situations | Logistics |
Need specific market information ?
Table of Content
Introduction

Global AR VR for Training Ecosystem Definition
Scope of study
About FABRIC
Customizations
Ask for Customization

Sensitivity Analysis
TAM SAM SOM Analysis
Other Customization

Executive Summary

Global Market Segmentation
Global Market Overview
Global Market Statistics
Mega Trends
Competitive Landscape

SWOT
PEST
Company Ranking

Market Attractiveness
Ecosystem Positioning
Global AR VR for Training Ecosystem Snapshot

Global AR VR for Training Ecosystem Broad Heads

Demand Side
Supply Side

Global AR VR for Training Ecosystem Segmentation

By Product

Head Mounted Displays
Smart Glass
Handheld Devices

By Solutions & Services

Documentation
Visualization
3D Modelling
Navigation
Workflow Optimization
Others

By End-use Industries

Automotive
Defense
Aerospace
Healthcare
Retail
Transport & Logistics
Others

By Components

Sensors
Camera
IMU
Processors
Graphics (Cards)
Audio IC's
Memory
Displays
Modules
Others

By Raw Material

Silicon
GaN
Glass
Plastic
SiC
Metal
Others

By Region

North America

U.S.
Canada
Mexico

Asia Pacific

China
Japan
India
Australia
South Korea
Rest of APAC

Europe

UK
France
Germany
Italy
Spain
Rest of Europe

Rest of world

LATAM
MEA

Competitive Landscape Mapping by Ecosystem Positioning

Company by each node
Vendor Landscaping

Ecosystem Level Analysis
Trend Analysis
Global AR VR for Training Ecosystem Trends

Trend Mapping

Trend Description
Trend Evaluation

Impact
Importance
Remarks

Trend Outlook (Short, Mid, Long Term)
Trend Company Mapping
Related Global AR VR for Training Ecosystem Mapping
Trend Region/Country Mapping
Global AR VR for Training Ecosystem Regulatory Analysis
Overview

Regulatory Mapping
Regulatory Impact
Regulatory Interlinkage
Global AR VR for Training Ecosystem Sizing, Volume and ASP Analysis & Forecast
Global AR VR for Training Ecosystem Sizing & Volume

Cross-segmentation
Global AR VR for Training Ecosystem Sizing and Global AR VR for Training Ecosystem Forecast
Global AR VR for Training Ecosystem Volume Analysis
Average Selling Price Analysis
Global AR VR for Training Ecosystem Growth Analysis
Competitive Intelligence
Competitive Intelligence

Top Industry Players vs Trend Tagging

Importance
Trend Nature (Positive/ Negative)
Value
Interconnectivity for each vendor

Global AR VR for Training Ecosystem Share Analysis

By Each Node

Strategies Adopted by Global AR VR for Training Ecosystem participants

Global AR VR for Training Ecosystem Strategies
New product launch Strategies
Geographic Expansion Strategies
Product-line Expansion Strategies
Operational / Efficiency building Strategies
Other Strategies
Company Profiles
Company Profiling Summary

Company List & Fundamentals
Ecosystem Positioning

Company Profiles - including the:

Zco Corporation

Company Fundamentals
Subsidiaries list
Share Holding Pattern
Key Employees and Board of Directors
Financial Analysis

Financial Summary
Ratio Analysis
Valuation Metrics

Product & Services
Client & Strategies
Ecosystem Presence
SWOT
Trends Mapping
Analyst Views

Facebook, Inc.
Google LLC
Microsoft Corporation
Samsung Electronics Co. Ltd
Sony Corporation
BAE Systems, Inc
HTC Corporation
Lenovo
Acer
FOVE, Inc.
Beijing ANTVR Technology CO., LTD
Pico Interactive Inc.
LG Electronics
Open Source Virtual Reality
Pimax Technology
StarVR Corp.
Magic Leap
Carl Zeiss A.G.
Next/Now
GameAnax Inc
Unity Technologies
Global AR VR for Training Ecosystem Developments
Global AR VR for Training Ecosystem Events & Rationale

R&D, Technology and Innovation
Business & Corporate advancements
M&A, JVs/Partnerships
Political, Macro-economic, Regulatory
Awards & Recognition
Others
Research Methodology & Approach
Research Methodology and Approach

Assumptions/ Inferences
Sources

Primary Interviews
Secondary Sources

Key Secondary Webpages
Whitepapers
Annual Reports
Investor/Analyst Presentations

Appendix
Contact