RF Switch Market Ecosystem by Type, by Technology, by Insertion Loss, by Off isolation, by Configuration, by Operating Frequency, by Power Handling, by Application (Telecommunication, Aviation, Defense, Automotive, Consumer Electronics, Instrumentation, Other), Forecast to 2027
|
|
Category : Semiconductor & Electronics
|
Report Format:




The semiconductor industry is one of the most important manufacturing industries. The industry witnessed huge growth during 2017 and 2018 owing to increased demand for memory chips, relative to their tight supply. The transition of 2D NAND to 3D NAND has fueled the memory component of the semiconductor industry. The RF switch market ecosystem has witnessed major ups and downs in the past, owing to the decline in the overall semiconductor component production. However, it is showing strong growth due to the increasing demand for RF switches in wireless systems like mobile phones for routing signals from antennas to the transmit-and-receive chains.
Moreover, with the penetration of 5G cellular products, the demand for RF switch is expected to increase further during forecast period. The boom in wireless-communications technologies has affected every component in the RF/microwave signal chain and has increased the demand for the RF switch Market and components. Further, the demand for higher frequency and less power specification into a small package with advanced control mechanism has forced manufacturers to develop and design innovative solutions.
Moreover, 2019 has witnessed major downturns in the semiconductor component market. The industry declined to 12.8% of 2018, majorly due to weaker prices of memory, the U.S. China trade war, and sluggish growth in other applications including smartphones, servers, and PCs. However, the deployment of 5G, introduction of AI and demand for chips related to AI, IoT, and many other developments are expected to drive RF switch market.
COVID-19 Impact Analysis & Opportunities in RF Switch Market:
The outbreak of COVID-19 has bought along with a global recession, which has impacted several industries. Along with this impact, COVID Pandemic has also generated a few new business opportunities for the RF Switch market ecosystem. The overall competitive landscape and market dynamics of RF Switch has been disrupted due to this pandemic. All these disruptions and impacts have been analyzed quantifiably in this report, which is backed by market trends, events, and revenue shift analysis. COVID impact analysis also covers strategic adjustments for Tier 1, 2, and 3 players of the RF Switch Market.
Ecosystem Snapshot: RF Switch Market
SOI has emerged as a key technology for RF switch market ecosystem in RF front-end modules for cell phones and Wi-Fi. This technology helps in the manufacturing of low power and high-performance devices. The market is to gain momentum over the coming years owing to high switching power and high-speed SOI transistors. SOI is primarily a specific process for making RF chips, such as switch devices and antenna tuners for smartphones, among others. RF SOI is the RF version of silicon-on-insulator (SOI) technology. RF SOI chips are not the only devices used in phones; a smartphone consists of both digital and RF chips.
However, GaAs offer good linearity and isolation with low ON resistance and low OFF capacitance, due to which, they are widely adopted across wireless communication applications including wireless networks (WLAN), mobile communication, 4G/5G base stations, satellite communications, and Wi-Fi communications. Rising internet penetration across the world, especially in developing countries such as India and Brazil, has stimulated the demand for GaAs wafers. Subsequently, the demand for backhaul, base stations, and fiber-optic networks in wireless communication infrastructure and Wi-Fi connectivity products has increased, and this is supporting the growing penetration of the internet worldwide, which in turn, is boosting the adoption of GaAs technology in the RF switch market ecosystem.
In the telecommunication industry, RF Switch device applications have laid a strong foundation, especially in the cellular (5G, 4G, handsets, LTE), and wireless communication (Base station devices, small cells, test instruments, etc.). The increasing demand for efficient communication networks across emerging economies such as India and China, among others, and several smart city projects have increased the deployment of 4G networks. Further, rapid growth of loT networks and increased demand for high-speed Internet connectivity have led to the rapid deployment of 5G networks.
The demand for RF switches is on the rise due to increasing investments in telecommunication network infrastructure, which is expected to accelerate the global RF MEMS market during the forecast period. Base stations incorporate many antennas to enhance reception and transmission. Thus, they require RF switches with high isolation to test base stations, wireless devices, specialized antenna systems, and RF components, which is also increasing RF switch market ecosystem demand. As per our analysis, the telecommunication segment held 41.2% market share in the year 2018, owing to the rising deployment of 4G/5G network infrastructure.
RF Switch Market Ecosystem: Segmentation
| | | | | | | | |
| --- | --- | --- | --- | --- | --- | --- | --- |
| Type | Technology | Insertion Loss | Off Isolation | Configuration | Operating Frequency | Power Handling | Application |
| Electro-Mechanical | SOI | 0.3-0.9 dB | 12-24 dB | Standalone | Low (Upto 1 GHz) | Hot Switching | Telecommunication |
| Solid State | GaAs | 1.0-1.9 dB | 24-48 dB | Hybrid | Medium (1-20 GHz) | Cold Switching | Aviation |
| | MEMS | 1.9-3 dB | 48-60 dB | | High (20-40 GHz) | Average Power | Defense |
| | GaN | 3-6 dB | | | Very High (40 GHz +) | Peak Power | Automotive |
| | | | | | | | Consumer Electronics |
| | | | | | | | Instrumentation |
One of the most prominent areas where RF switches are being used is the telecommunication industry. Leading vendors are engaged in the process of acquiring and coming up with new products to stay competitive in the RF Switch market ecosystem. In 2019, Infineon Technologies acquired Cypress Semiconductor Corporation, a semiconductor design and manufacturing company. The acquisition was aimed at strengthening business and profitability. This will improve company's research and development and innovations in the industrial, automotive, and the Internet of Things sector. Moreover, pSemi Corporation has launched Next Generation UltraCMOS® Technology "UltraCMOS® 13", which has superior RF performance. It has helped the company maintain leadership in the RFSOI (Silicon-on-insulator) technology and innovation.
RF Switch Market Ecosystem Statistics Glimpse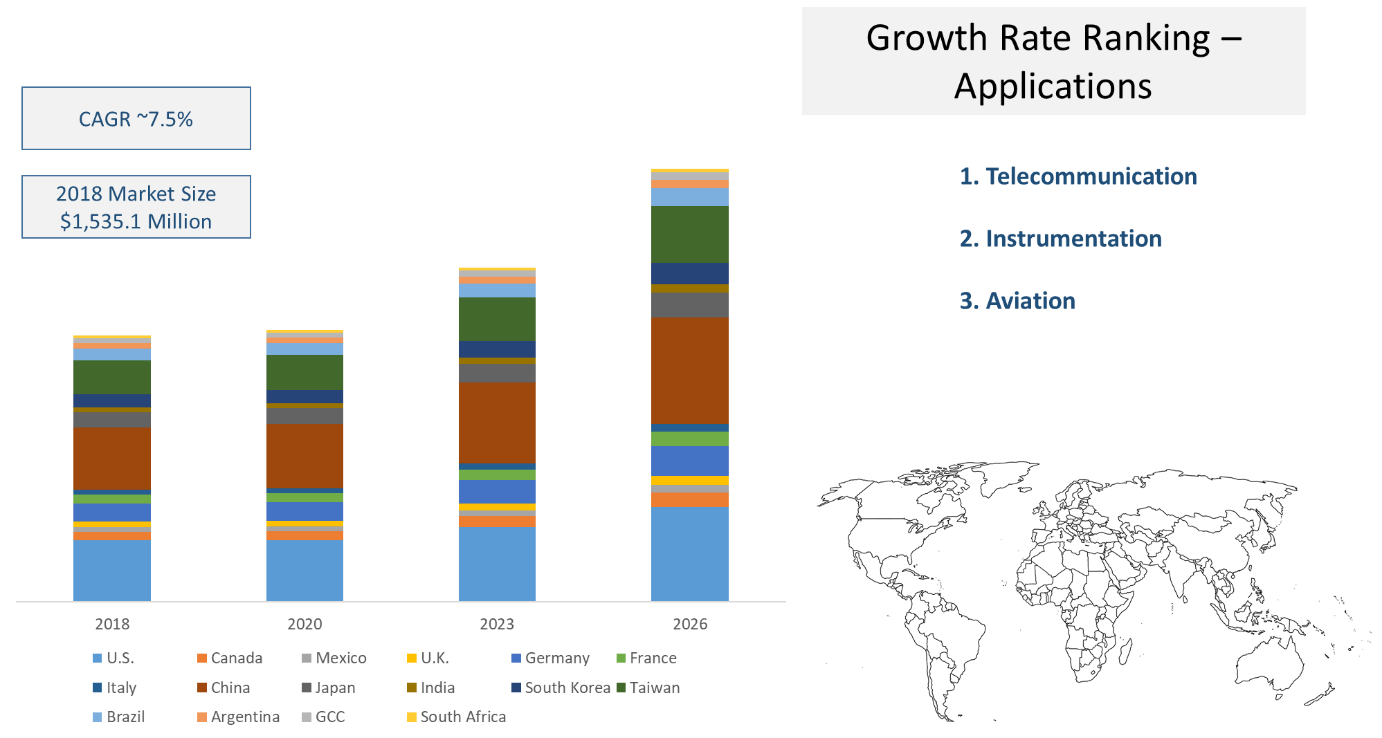 There are many trends that are having an impact on the RF switch market ecosystem forecast. These, when evaluated from a company's perspective, can drive growth. Our numerous consulting projects have generated sizeable synergies across all regions and all sizes of companies.

The Major Players Operating in the Global RF Switch Market Ecosystem are as follows:
| | | | | |
| --- | --- | --- | --- | --- |
| Company | Ecosystem Positioning | Total Revenue (2018) | Industry | Region |
| pSemi Corporation | Device Manufacturer | $ 14,362.8 Mn | Semiconductors | Global |
| Infineon Technologies AG | Device Manufacturer | $ 8,725.2 Mn | Semiconductors | Global |
| Analog Devices, Inc. | Device Manufacturer | $ 6,200.9 Mn | Semiconductors | Global |
| Qorvo, Inc. | Device Manufacturer | $ 2,973.5 Mn | Semiconductors | Global |
| Skyworks Solutions Inc. | Device Manufacturer | $ 3,868.0 Mn | Semiconductors | Global |

Very few markets have interconnectivity with other markets. Our Interconnectivity module focuses on the key nodes of heterogenous markets in detail. IoT, Aviation & Defense, Telecommunication, and Automotive are some of our key researched markets.

RF Switch Market Ecosystem: Major Interconnectivities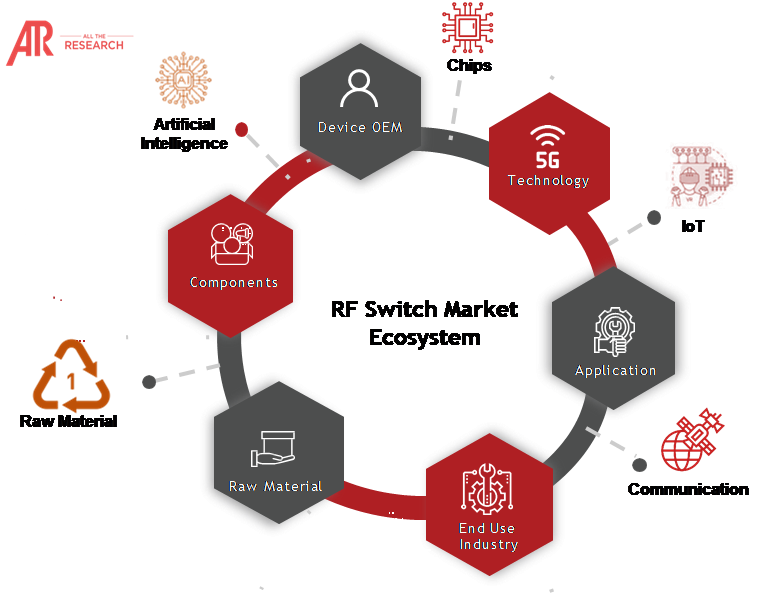 Need specific market information ?
Ecosystem Report – Table of Content
Introduction

Global RF Switch Ecosystem Definition
Scope of study
About FABRIC
Customizations
Ask for Customization

Sensitivity Analysis
TAM SAM SOM Analysis
Other Customization

Executive Summary

Global Market Segmentation
Global Market Overview
Global Market Statistics
Mega Trends
Competitive Landscape

SWOT
PEST
Company Ranking

Market Attractiveness
Ecosystem Positioning
Global RF Switch Ecosystem Snapshot

Global RF Switch Ecosystem Broad Heads

Demand Side
Supply Side

Global RF Switch Ecosystem Segmentation

By Type

Electro-Mechanical
Solid State

PIN Diode
FET
Hybrid

By Technology

SOI
GaAs
MEMS
GaN

By Insertion Loss

0.3-0.9 dB
1.0-1.9 dB
1.9-3 dB
3-6 dB

By Off Isolation

12-24 dB
24-48 dB
48-60 dB

By Configuration

Standalone

SPDT
SP4T
SP5T
SP3T
SPST
SP6T
SP7T (797)
SP8T (905)
SP9T (22)
DPDT (173)
SP10T (65)

Hybrid

By Operating Frequency

Low (Upto 1 GHz)
Medium (1-20 GHz)
High (20-40 GHz)
Very High (40 GHz +)

By Power Handling

Hot Switching
Cold Switching
Average Power
Peak Power

By Applications

Communication
Cellular (5G, 4G, Handsets etc.)
Wireless Communication (Base Station Devices, Small Cells, Test Instrument etc.)
Aviation (RADAR Systems, Communication Systems etc.)
Defence (Electronic Warfare, Test & Measurement, Communication Systems etc.)
Automotive (Antenna Band Switching, Infotainment Systems etc.)
Consumer Electronics (Smartphones, Smart Speaker etc.)
Instrumentation
Others

By Region

North America

U.S.
Canada
Mexico

Asia Pacific

China
Japan
India
Australia
South Korea
Rest of APAC

Europe

UK
France
Germany
Italy
Spain
Rest of Europe

Rest of world

LATAM
MEA

Competitive Landscape Mapping by Ecosystem Positioning

Company by each node
Vendor Landscaping

Ecosystem Level Analysis
Trend Analysis
Global RF Switch Ecosystem Trends

Trend Mapping

Trend Description
Trend Evaluation

Impact
Importance
Remarks

Trend Outlook (Short, Mid, Long Term)
Trend Company Mapping
Related Global RF Switch Ecosystem Mapping
Trend Region/Country Mapping
Global RF Switch Ecosystem Regulatory Analysis
Overview

Regulatory Mapping
Regulatory Impact
Regulatory Interlinkage
Global RF Switch Ecosystem Sizing, Volume and ASP Analysis & Forecast
Global RF Switch Ecosystem Sizing & Volume

Cross-segmentation
Global RF Switch Ecosystem Sizing and Global RF Switch Ecosystem Forecast
Global RF Switch Ecosystem Volume Analysis
Average Selling Price Analysis
Global RF Switch Ecosystem Growth Analysis
Competitive Intelligence
Competitive Intelligence

Top Industry Players vs Trend Tagging

Importance
Trend Nature (Positive/ Negative)
Value
Interconnectivity for each vendor

Global RF Switch Ecosystem Share Analysis

By Each Node

Strategies Adopted by Global RF Switch Ecosystem participants

Global RF Switch Ecosystem Strategies
New product launch Strategies
Geographic Expansion Strategies
Product-line Expansion Strategies
Operational / Efficiency building Strategies
Other Strategies
Company Profiles
Company Profiling Summary

Company List & Fundamentals
Ecosystem Positioning

Company Profiles - including the:

Skyworks Solutions Inc.

Company Fundamentals
Subsidiaries list
Share Holding Pattern
Key Employees and Board of Directors
Financial Analysis

Financial Summary
Ratio Analysis
Valuation Metrics

Product & Services
Client & Strategies
Ecosystem Presence
SWOT
Trends Mapping
Analyst Views

Infineon Technologies AG
NXP Semiconductors N.V.
pSemi Corporation
Qorvo, Inc.
Analog Devices, Inc.
New Japan Radio Co., Ltd.
Maxim Integrated Products
Broadwave Technologies
Amphenol RF
Global RF Switch Ecosystem Developments
Global RF Switch Ecosystem Events & Rationale

R&D, Technology and Innovation
Business & Corporate advancements
M&A, JVs/Partnerships
Political, Macro-economic, Regulatory
Awards & Recognition
Others
Research Methodology & Approach
Research Methodology and Approach

Assumptions/ Inferences
Sources

Primary Interviews
Secondary Sources

Key Secondary Webpages
Whitepapers
Annual Reports
Investor/Analyst Presentations

Appendix
Contact