Global Logistics Services (3PL&4PL) Market
Global Logistics Services(3pl 4pl) Market - Segment Analysis, Opportunity Assessment, Competitive Intelligence, Industry Outlook 2016-2023
|
|
Category : Information Technology
|
Report Format:




In a business process, logistics is defined as the management of the flow of materials between the point of origin and the point of consumption. Logistics management is a part of the supply chain of an organization. The whole supply chain is standing on the concept of trade-offs between cost and effectiveness. The logistics services should be designed in such a way that it will deliver value to customers in terms of timely delivery and lower cost. The Global Logistics Services (3PL&4PL) market was valued at US$ xx million in the year 2018 and is expected to reach US$ xx million by the year 2023, growing at a CAGR of approximately 2.1%.
Global Logistics Services(3pl 4pl) Market, 2016-2023, (US$ Bn)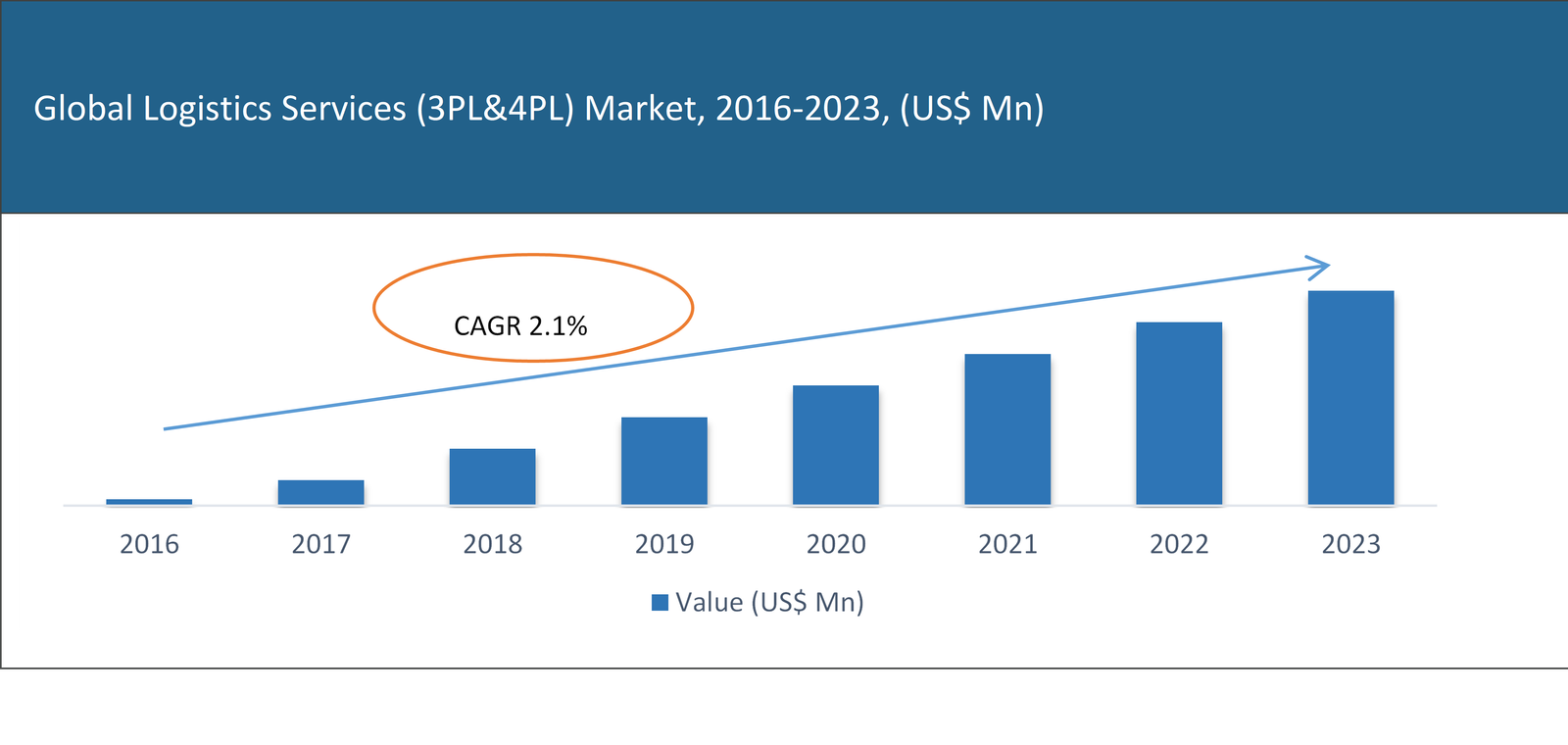 A third-party logistics (3PL) provider offer logistics services which include freight forwarding, inventory storage & distribution, shipping or distribution of materials, IT solutions, and others. A 3PL service can be a single provider or it can be an integrated system with a wide bundle of services, which can manage the supply chain of a company. The benefits of using 3PL service are cost saving and increasing focus on the core competency of an organization. However, it is having less control over the own inventory and trust issues which are curtailing the growth of the 3PL services.
A fourth party logistics (4PL) provider is a supply chain integrator which gathers and manages all capabilities, resources, and technology of a company's supply chain. An experienced and dependable 4PL provider will deliver value with an approach of reengineering of the supply chain to the organization. The 4PL provider signs a centralized contract with the client to carry out all the responsibilities for the performance of the logistics functions of an organization.
Segmentation Scope: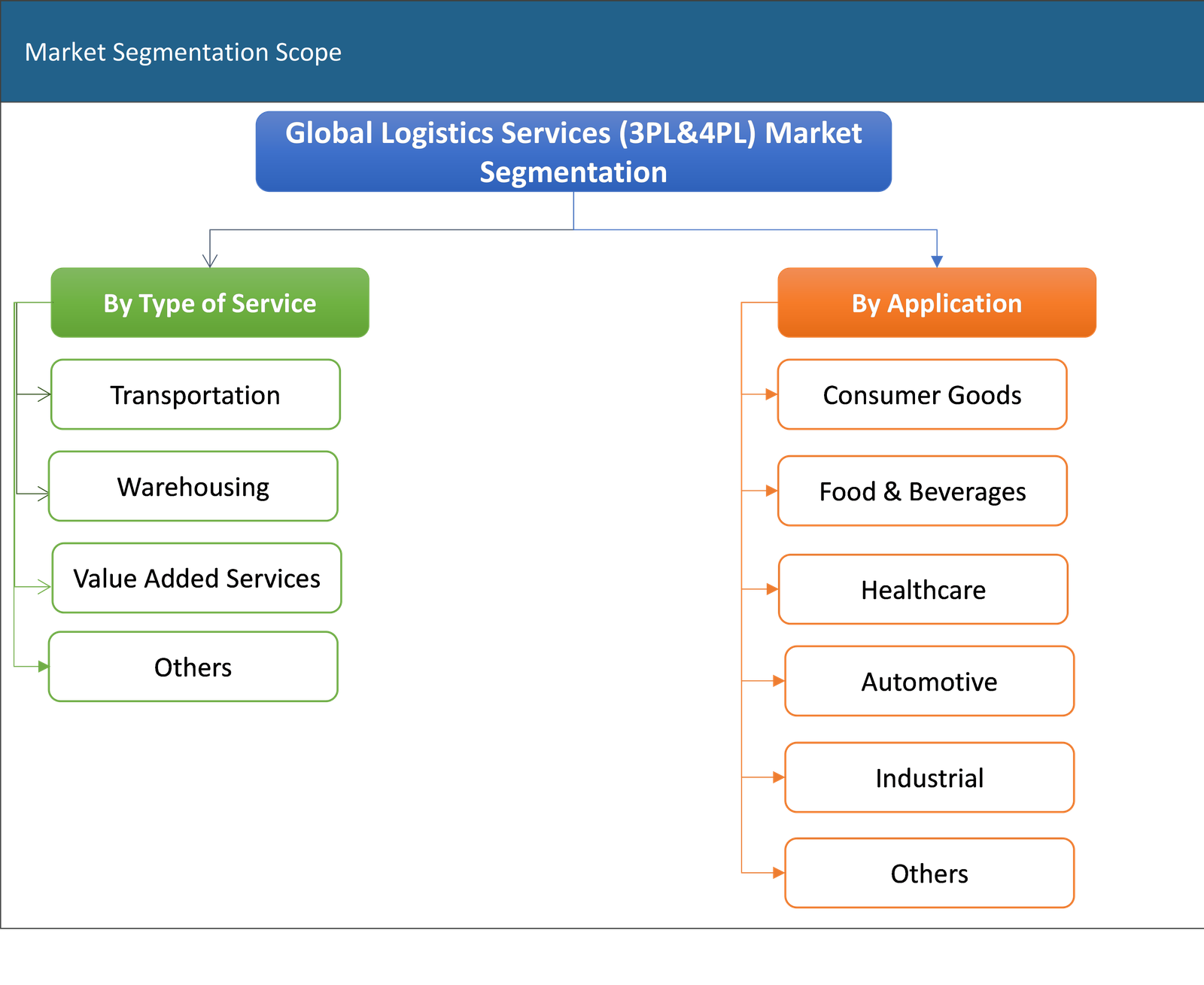 Geographies covered:
North America
US
Canada
Mexico
Europe
UK
Germany
France
Italy
Spain
Rest of Europe
Asia Pacific
China
Japan
India
South Korea
Southeast Asia
Rest of APAC
Rest of The World
Latin America
Middle East & Africa
Key players of the market:
DHL (Germany)
Nippon Express (Japan)
DSV (Denmark)
Kuehne & Nagel (Switzerland)
DB Schenker logistics (Germany)
Sinotrans (China)
CH Robinson Worldwide (USA)
CEVA Logistics (Switzerland)
UPS Supply Chain Solutions (USA)
Panalpina (Switzerland)
Hitachi Transport System (Japan)
Need specific market information ?
Table of Content
Chapter 1 Preface
1.1 Report Description
1.1.1 Purpose of the Report
1.1.2 Target Audience
1.1.3 USP and Key Offerings
1.2 Research Scope
1.3 Research Methodology
1.3.1 Phase I – Secondary Research
1.3.2 Phase II – Primary Research
1.3.3 Phase III – Expert Panel Review
1.3.4 Approach Adopted
1.3.4.1 Top-Down Approach
1.3.4.2 Bottom-Up Approach
1.3.5 Assumptions
1.4 Market Segmentation Scope
Chapter 2 Executive Summary
2.1 Market Summary
2.1.1 Global Logistics Services (3PL & 4PL) Market, 2016-2023, (US$ Mn)
2.1 Market Snapshot: Global Logistics Services (3PL & 4PL) Market
2.2 Market Dynamics
2.3 Global Logistics Services (3PL & 4PL) Market, by Segment, 2018
2.3.1 Global Logistics Services (3PL & 4PL) Market, by Type of Service, 2018, (US$ Mn)
2.3.2 Global Logistics Services (3PL & 4PL) Market, by Application, 2018, (US$ Mn)
2.3.3 Global Logistics Services (3PL & 4PL) Market, by Region, 2018 (US$ Mn)
2.4 Premium Insights
2.4.1 Logistics Services (3PL & 4PL) Market In Developed Vs. Developing Economies, 2018 vs 2023
2.4.2 Global Logistics Services (3PL & 4PL) Market: Regional Life Cycle Analysis
Chapter 3 Market Dynamics
3.1 Market Overview
3.2 Market Drivers
3.2.1 Ongoing trend on outsourcing logistics function
3.2.2 Advantages of focusing on the core business activity of a company
3.3 Market Restraints
3.3.1 Reliability issues
3.4 Market Opportunities
3.4.1 Growing emergence of e-commerce warehousing & distribution
3.5 Industry Value Chain Analysis
3.5.1 Analyst's Views
3.6 Industry SWOT Analysis
Chapter 4 Global Logistics Services (3PL & 4PL) Market, by Type of Service
4.1 Market Overview, by Type of Service
4.1.1 Global Logistics Services (3PL & 4PL) Market, by Type of Service, 2016-2023 (US$ Mn)
4.1.2 Incremental Opportunity, by Type of Service, From 2018-2023
4.2 Transportation
4.2.1 Global Logistics Services (3PL & 4PL) Market, by Transportation, 2016-2023, (US$ Mn)
4.3 Warehousing
4.3.1 Global Logistics Services (3PL & 4PL) Market, by Warehousing, 2016-2023, (US$ Mn)
4.4 Value Added Services
4.4.1 Global Logistics Services (3PL & 4PL) Market, by Value Added Services, 2016-2023, (US$ Mn)
4.5 Others
4.5.1 Global Logistics Services (3PL & 4PL) Market, by Others, 2016-2023, (US$ Mn)
Chapter 5 Global Logistics Services (3PL & 4PL) Market, by Application
5.1 Market Overview, by Application
5.1.1 Global Logistics Services (3PL & 4PL) Market, by Application, 2016-2023 (US$ Mn)
5.1.2 Incremental Opportunity, by Application, From 2018-2023
5.2 Consumer Goods
5.2.1 Global Logistics Services (3PL & 4PL) Market, by Consumer Goods, 2016-2023, (US$ Mn)
5.3 Food & Beverages
5.3.1 Global Logistics Services (3PL & 4PL) Market, by Food & Beverages, 2016-2023, (US$ Mn)
5.4 Healthcare
5.4.1 Global Logistics Services (3PL & 4PL) Market, by Healthcare, 2016-2023, (US$ Mn)
5.5 Automotive
5.5.1 Global Logistics Services (3PL & 4PL) Market, by Automotive, 2016-2023, (US$ Mn)
5.6 Industrial
5.6.1 Global Logistics Services (3PL & 4PL) Market, by Industrial, 2016-2023, (US$ Mn)
5.7 Others
5.7.1 Global Logistics Services (3PL & 4PL) Market, by Others, 2016-2023, (US$ Mn)
Chapter 6 Global Logistics Services (3PL & 4PL) Market, by Region
6.1 Market Overview, by Region
6.1.1 Global Logistics Services (3PL & 4PL) Market, by Region, 2016-2023, (US$ Mn)
6.2 Attractive Investment Opportunity, by Region, 2018
6.3 North America Logistics Services (3PL & 4PL) Market
6.3.1 North America Logistics Services (3PL & 4PL) Market, by Type of Service, 2016-2023 (US$ Mn)
6.3.2 North America Logistics Services (3PL & 4PL) Market, by Application, 2016-2023 (US$ Mn)
6.3.3 United States Country Profile
6.3.3.1 United States Logistics Services (3PL & 4PL) Market, 2016-2023 (US$ Mn)
6.3.4 Canada Country Profile
6.3.4.1 Canada Logistics Services (3PL & 4PL) Market, 2016-2023 (US$ Mn)
6.3.5 Mexico Country Profile
6.3.5.1 Mexico Logistics Services (3PL & 4PL) Market, 2016-2023 (US$ Mn)
6.4 Europe Logistics Services (3PL & 4PL) Market
6.4.1 Europe Logistics Services (3PL & 4PL) Market, by Type of Service, 2016-2023 (US$ Mn)
6.4.2 Europe Logistics Services (3PL & 4PL) Market, by Application, 2016-2023 (US$ Mn)
6.4.3 United Kingdom Country Profile
6.4.3.1 United Kingdom Logistics Services (3PL & 4PL) Market, 2016-2023 (US$ Mn)
6.4.4 Germany Country Profile
6.4.4.1 Germany Logistics Services (3PL & 4PL) Market, 2016-2023 (US$ Mn)
6.4.5 France Country Profile
6.4.5.1 France Logistics Services (3PL & 4PL) Market, 2016-2023 (US$ Mn)
6.4.6 Italy Country Profile
6.4.6.1 Italy Logistics Services (3PL & 4PL) Market, 2016-2023 (US$ Mn)
6.4.7 Spain Country Profile
6.4.7.1 Spain Logistics Services (3PL & 4PL) Market, 2016-2023 (US$ Mn)
6.4.8 Rest of Europe
6.4.8.1 Rest of Europe Logistics Services (3PL & 4PL) Market, 2016-2023 (US$ Mn)
6.5 Asia Pacific Logistics Services (3PL & 4PL) Market
6.5.1 Asia Pacific Logistics Services (3PL & 4PL) Market, by Type of Service, 2016-2023 (US$ Mn)
6.5.2 Asia Pacific Logistics Services (3PL & 4PL) Market, by Application, 2016-2023 (US$ Mn)
6.5.3 China Country Profile
6.5.3.1 China Logistics Services (3PL & 4PL) Market, 2016-2023 (US$ Mn)
6.5.4 Japan Country Profile
6.5.4.1 Japan Logistics Services (3PL & 4PL) Market, 2016-2023 (US$ Mn)
6.5.5 India Country Profile
6.5.5.1 India Logistics Services (3PL & 4PL) Market, 2016-2023 (US$ Mn)
6.5.6 South Korea Country Profile
6.5.6.1 South Korea Logistics Services (3PL & 4PL) Market, 2016-2023 (US$ Mn)
6.5.7 Southeast Asia
6.5.7.1 Southeast Asia Logistics Services (3PL & 4PL) Market, 2016-2023 (US$ Mn)
6.5.8 Rest of Asia Pacific
6.5.8.1 Rest of Asia Pacific Logistics Services (3PL & 4PL) Market, 2016-2023 (US$ Mn)
6.6 Rest of The World Logistics Services (3PL & 4PL) Market
6.6.1 Rest of The World Logistics Services (3PL & 4PL) Market, by Type of Service, 2016-2023 (US$ Mn)
6.6.2 Rest of The World Logistics Services (3PL & 4PL) Market, by Application, 2016-2023 (US$ Mn)
6.6.2.1 Latin America Logistics Services (3PL & 4PL) Market, 2016-2023 (US$ Mn)
6.6.2.2 Middle East & Africa Logistics Services (3PL & 4PL) Market, 2016-2023 (US$ Mn)
Chapter 7 Competitive Intelligence
7.1 Introduction
7.2 Players Evaluated During the Study
7.3 Market Players Present in Market Life Cycle
7.4 Top 5 Players Comparison
7.5 Market Positioning of Key Players, 2018
7.6 Market Players Mapping
7.6.1 By Type of Service
7.6.2 By Enterprise Size
7.6.3 By Application
7.6.4 By Region
7.7 Strategies Adopted by Key Market Players
7.8 Recent Developments in the Market
7.8.1 Mergers & Acquisitions, Partnership, New Product Developments
7.9 Operational Efficiency Comparison by Key Players
Chapter 8 Company Profiles
8.1 DHL
8.1.1 DHL Overview
8.1.2 Key Stakeholders/Person in DHL
8.1.3 DHL Products Portfolio
8.1.4 DHL Financial Overview
8.1.5 DHL News/Recent Developments
8.2 Nippon Express
8.2.1 Nippon Express Overview
8.2.2 Key Stakeholders/Person in Nippon Express
8.2.3 Nippon Express Products Portfolio
8.2.4 Nippon Express Financial Overview
8.2.5 Nippon Express News/Recent Developments
8.3 DSV
8.3.1 DSV Overview
8.3.2 Key Stakeholders/Person in DSV
8.3.3 DSV Products Portfolio
8.3.4 DSV Financial Overview
8.3.5 DSV News/Recent Developments
8.4 Kuehne & Nagel
8.4.1 Kuehne & Nagel Overview
8.4.2 Key Stakeholders/Person in Kuehne & Nagel
8.4.3 Kuehne & Nagel Products Portfolio
8.4.4 Kuehne & Nagel Financial Overview
8.4.5 Kuehne & Nagel News/Recent Developments
8.5 DB Schenker Logistics
8.5.1 DB Schenker Logistics Overview
8.5.2 Key Stakeholders/Person in DB Schenker Logistics
8.5.3 DB Schenker Logistics Products Portfolio
8.5.4 DB Schenker Logistics Financial Overview
8.5.5 DB Schenker Logistics News/Recent Developments
8.6 Sinotrans
8.6.1 Sinotrans Overview
8.6.2 Key Stakeholders/Person in Sinotrans
8.6.3 Sinotrans Products Portfolio
8.6.4 Sinotrans Financial Overview
8.6.5 Sinotrans News/Recent Developments
8.7 CH Robinson Worldwide
8.7.1 CH Robinson Worldwide Overview
8.7.2 Key Stakeholders/Person in CH Robinson Worldwide
8.7.3 CH Robinson Worldwide Products Portfolio
8.7.4 CH Robinson Worldwide Financial Overview
8.7.5 CH Robinson Worldwide News/Recent Developments
8.8 CEVA Logistics
8.8.1 CEVA Logistics Overview
8.8.2 Key Stakeholders/Person in CEVA Logistics
8.8.3 CEVA Logistics Products Portfolio
8.8.4 CEVA Logistics Financial Overview
8.8.5 CEVA Logistics News/Recent Developments
8.9 UPS Supply Chain Solutions
8.9.1 UPS Supply Chain Solutions Overview
8.9.2 Key Stakeholders/Person in UPS Supply Chain Solutions
8.9.3 UPS Supply Chain Solutions Products Portfolio
8.9.4 UPS Supply Chain Solutions Financial Overview
8.9.5 UPS Supply Chain Solutions News/Recent Developments
8.10 Hitachi Transport System
8.10.1 Hitachi Transport System Overview
8.10.2 Key Stakeholders/Person in Hitachi Transport System
8.10.3 Hitachi Transport System Products Portfolio
8.10.4 Hitachi Transport System Financial Overview
8.10.5 Hitachi Transport System News/Recent Developments