Global Call Center Outsourcing Market
Global Call Center Outsourcing Market - Segment Analysis, Opportunity Assessment, Competitive Intelligence and Industry Outlook, 2016-2023
|
|
Category : Information Technology
|
Report Format:




A call center is also known as a call center suite which is a centralized facility designed to handle large amounts of incoming and outgoing calls for an organization. The telephonic communication in a call center is both with the new and existing customers. A call center has automatic call distribution, outbound dialling, telephone switches, interactive voice response, intelligent routing, and various other components to attend to customer queries. A call center provides inbound as well as outbound services for large organizations. The inbound services include customer service, inquiry handling, tech support solutions, sales lead qualification, and other services, whereas outbound services include cross-selling and upselling, market research and survey, lead generation, product service promotion, appointment setting, and other services.
A call center outsourcing is a term used when an organization ties up with another organization having expertise in providing call center services. The global market for call center outsourcing is growing at a CAGR of 8% in the forecast period. Many large organizations outsource call center services for cost benefit, flexibility, improved productivity, and efficiency in customer support. The cost can be reduced as the infrastructure, staff, and overhead cost reduce. In addition to these, the efficiency and productivity of an organization increase on outsourcing call center service, as there are employees dedicated only to handle customer calls and queries.
Global Call Center Outsourcing Market, 2016-2023, (US$ Mn)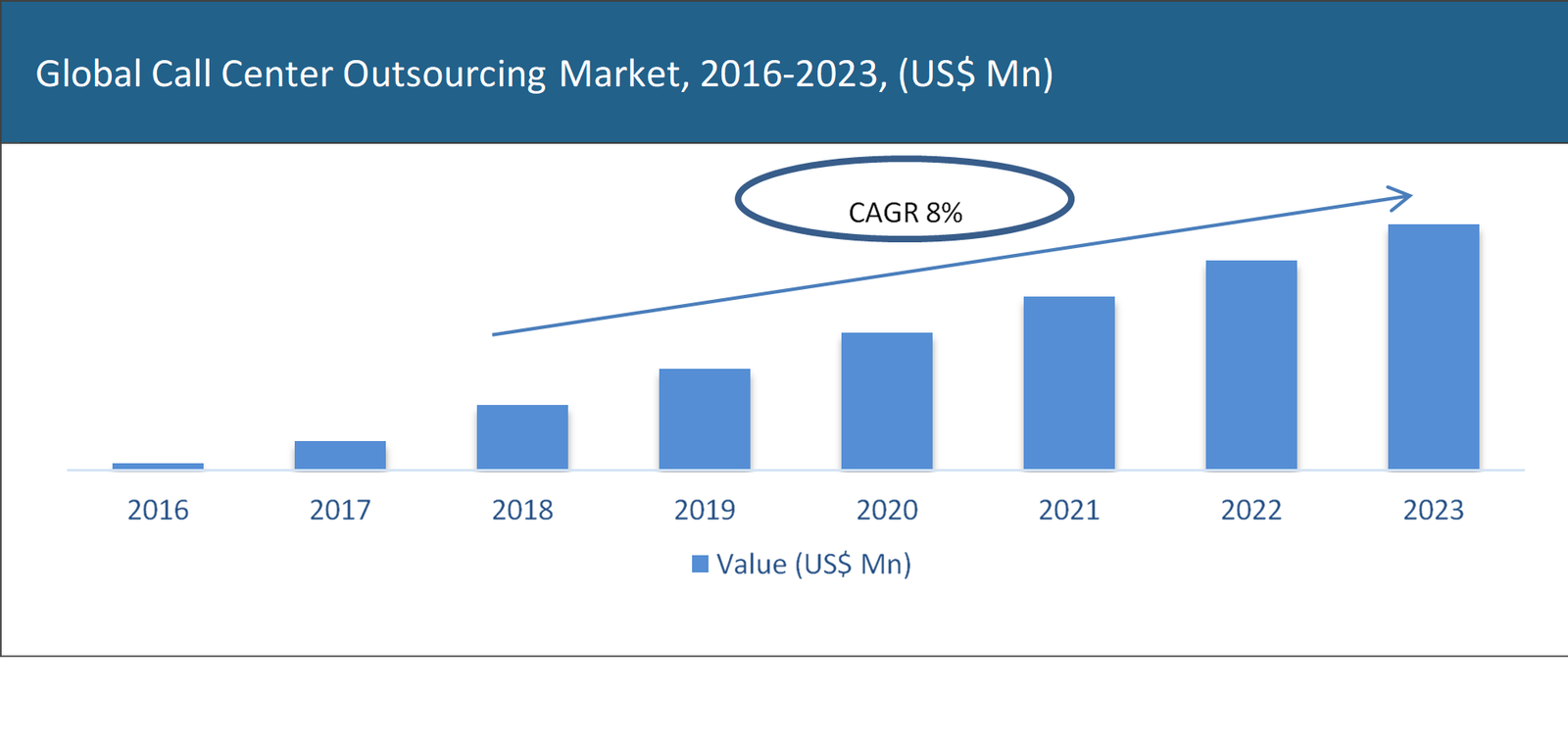 Organizations are using cloud-based services, adding a customized feature of video chat, predictive analytics, virtual agents, and various other features to enhance customer experience and provide better services compared to their counterparts. Outsourcing of call center services provides numerous advantages but at the same time, can affect an organizations reputation if the customers experience dissatisfaction. An organization may lose its customers owing to linguistic and cultural barriers, lack of knowledge by the call center service provider about the company it is working for, security and privacy concerns, and many such issues.
Global Call Center Outsourcing Market Segmentation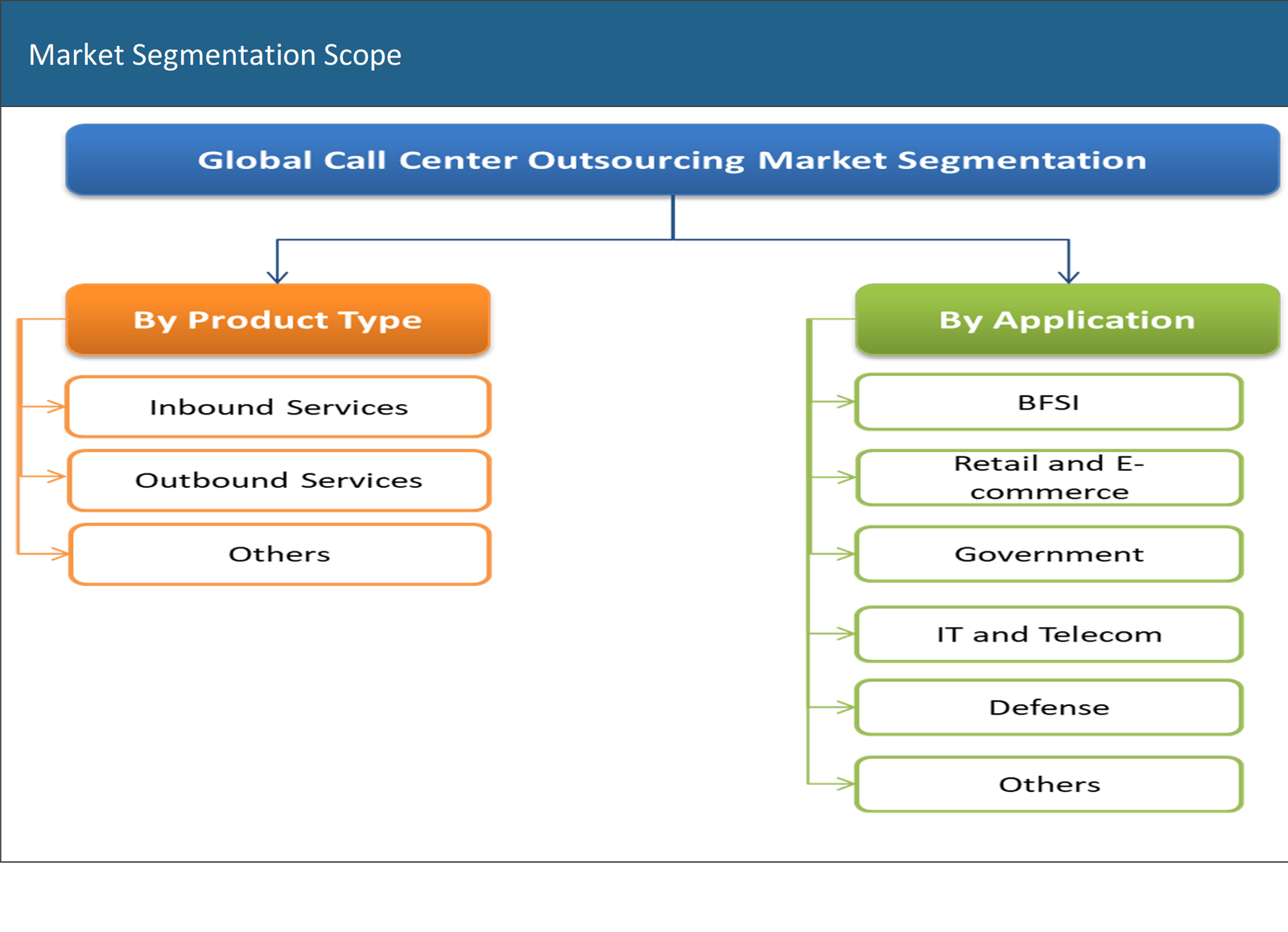 Region Covered in Call Center Outsourcing Market
North America
U.S.
Canada
Mexico
Europe
U.K.
Germany
France
Spain
Italy
Rest of Europe
Asia Pacific
China
Japan
India
South Korea
Southeast Asia
Rest of APAC
LATAM
Brazil
Argentina
Rest of LATAM
Middle East Africa
South Africa
GCC
Rest of MEA
Key players in Call Center Outsourcing market
Go4Customer
WNS Global Services
IBM Global Services
Capgemini
Accenture
Infosys
Cognizant
Tata Consultancy Services
Tech Mahindra
HCL Technologies
Need specific market information ?
Table of Content
Chapter 1 Preface
1.1 Report Description
1.1.1 Purpose of the Report
1.1.2 Target Audience
1.1.3 USP and Key Offerings
1.2 Research Scope
1.3 Research Methodology
1.3.1 Phase I – Secondary Research
1.3.2 Phase II – Primary Research
1.3.3 Phase III – Expert Panel Review
1.3.4 Approach Adopted
1.3.4.1 Top-Down Approach
1.3.4.2 Bottom-Up Approach
1.3.5 Assumptions
1.4 Market Segmentation Scope
Chapter 2 Executive Summary
2.1 Market Summary
2.1.1 Global Call Center Outsourcing Market, 2016-2023, (US$ Mn)
2.1 Market Snapshot: Global Call Center Outsourcing Market
2.2 Market Dynamics
2.3 Global Call Center Outsourcing Market, by Segment, 2018
2.3.1 Global Call Center Outsourcing Market, by Product Type, 2018, (US$ Mn)
2.3.2 Global Call Center Outsourcing Market, by End-use Industry, 2018, (US$ Mn)
2.3.3 Global Call Center Outsourcing Market, by Region, 2018 (US$ Mn)
2.4 Premium Insights
2.4.1 Call Center Outsourcing Market In Developed Vs. Developing Economies, 2018 vs 2023
2.4.2 Global Call Center Outsourcing Market: Regional Life Cycle Analysis
Chapter 3 Market Dynamics
3.1 Market Overview
3.2 Market Drivers
3.2.1 Improved productivity and efficiency
3.2.2 Operational cost reduction
3.3 Market Restraints
3.3.1 Linguistic and cultural barriers
3.4 Market Opportunities
3.4.1 Ability to focus on core business activities
3.5 Industry Value Chain Analysis
3.5.1 Analyst's Views
3.6 Industry SWOT Analysis
Chapter 4 Global Call Center Outsourcing Market, by Product Type
4.1 Market Overview, by Product Type
4.1.1 Global Call Center Outsourcing Market, by Product Type, 2016-2023 (US$ Mn)
4.1.2 Incremental Opportunity, by Product Type, From 2018-2023
4.2 Inbound Services
4.2.1 Global Call Center Outsourcing Market, by Inbound Services, 2016-2023, (US$ Mn)
4.3 Outbound Services
4.3.1 Global Call Center Outsourcing Market, by Outbound Services, 2016-2023, (US$ Mn)
4.4 Others
4.4.1 Global Call Center Outsourcing Market, by Others, 2016-2023, (US$ Mn)
Chapter 5 Global Call Center Outsourcing Market, by End-use Industry
5.1 Market Overview, by End-use Industry
5.1.1 Global Call Center Outsourcing Market, by End-use Industry, 2016-2023 (US$ Mn)
5.1.2 Incremental Opportunity, by End-use Industry, From 2018-2023
5.2 BFSI
5.2.1 Global Call Center Outsourcing Market, by BFSI, 2016-2023, (US$ Mn)
5.3 Retail and E-commerce
5.3.1 Global Call Center Outsourcing Market, by Retail and E-commerce, 2016-2023, (US$ Mn)
5.4 Government
5.4.1 Global Call Center Outsourcing Market, by Government, 2016-2023, (US$ Mn)
5.5 IT and Telecom
5.5.1 Global Call Center Outsourcing Market, by IT and Telecom, 2016-2023, (US$ Mn)
5.6 Defense
5.6.1 Global Call Center Outsourcing Market, by Defense, 2016-2023, (US$ Mn)
5.7 Others
5.7.1 Global Call Center Outsourcing Market, by Others, 2016-2023, (US$ Mn)
Chapter 6 Global Call Center Outsourcing Market, by Region
6.1 Market Overview, by Region
6.1.1 Global Call Center Outsourcing Market, by Region, 2016-2023, (US$ Mn)
6.2 Attractive Investment Opportunity, by Region, 2018
6.3 North America Call Center Outsourcing Market
6.3.1 North America Call Center Outsourcing Market, by Product Type, 2016-2023 (US$ Mn)
6.3.2 North America Call Center Outsourcing Market, by End-use Industry, 2016-2023 (US$ Mn)
6.3.3 United States Country Profile
6.3.3.1 United States Call Center Outsourcing Market, 2016-2023 (US$ Mn)
6.3.4 Canada Country Profile
6.3.4.1 Canada Call Center Outsourcing Market, 2016-2023 (US$ Mn)
6.3.5 Mexico Country Profile
6.3.5.1 Mexico Call Center Outsourcing Market, 2016-2023 (US$ Mn)
6.4 Europe Call Center Outsourcing Market
6.4.1 Europe Call Center Outsourcing Market, by Product Type, 2016-2023 (US$ Mn)
6.4.2 Europe Call Center Outsourcing Market, by End-use Industry, 2016-2023 (US$ Mn)
6.4.3 United Kingdom Country Profile
6.4.3.1 United Kingdom Call Center Outsourcing Market, 2016-2023 (US$ Mn)
6.4.4 Germany Country Profile
6.4.4.1 Germany Call Center Outsourcing Market, 2016-2023 (US$ Mn)
6.4.5 France Country Profile
6.4.5.1 France Call Center Outsourcing Market, 2016-2023 (US$ Mn)
6.4.6 Italy Country Profile
6.4.6.1 Italy Call Center Outsourcing Market, 2016-2023 (US$ Mn)
6.4.7 Spain Country Profile
6.4.7.1 Spain Call Center Outsourcing Market, 2016-2023 (US$ Mn)
6.4.8 Rest of Europe
6.4.8.1 Rest of Europe Call Center Outsourcing Market, 2016-2023 (US$ Mn)
6.5 Asia Pacific Call Center Outsourcing Market
6.5.1 Asia Pacific Call Center Outsourcing Market, by Product Type, 2016-2023 (US$ Mn)
6.5.2 Asia Pacific Call Center Outsourcing Market, by End-use Industry, 2016-2023 (US$ Mn)
6.5.3 China Country Profile
6.5.3.1 China Call Center Outsourcing Market, 2016-2023 (US$ Mn)
6.5.4 Japan Country Profile
6.5.4.1 Japan Call Center Outsourcing Market, 2016-2023 (US$ Mn)
6.5.5 India Country Profile
6.5.5.1 India Call Center Outsourcing Market, 2016-2023 (US$ Mn)
6.5.6 Indonesia Country Profile
6.5.6.1 Indonesia Call Center Outsourcing Market, 2016-2023 (US$ Mn)
6.5.7 Thailand Country Profile
6.5.7.1 Thailand Call Center Outsourcing Market, 2016-2023 (US$ Mn)
6.5.8 Rest of Asia Pacific
6.5.8.1 Rest of Asia Pacific Call Center Outsourcing Market, 2016-2023 (US$ Mn)
6.6 Latin America Call Center Outsourcing Market
6.6.1 Latin America Call Center Outsourcing Market, by Product Type, 2016-2023 (US$ Mn)
6.6.2 Latin America Call Center Outsourcing Market, by End-use Industry, 2016-2023 (US$ Mn)
6.6.3 Brazil Country Profile
6.6.3.1 Brazil Call Center Outsourcing Market, 2016-2023 (US$ Mn)
6.6.4 Argentina Country Profile
6.6.4.1 Argentina Call Center Outsourcing Market, 2016-2023 (US$ Mn)
6.6.5 Rest of Latin America
6.6.5.1 Rest of Latin America Call Center Outsourcing Market, 2016-2023 (US$ Mn)
6.7 Middle East & Africa Call Center Outsourcing Market
6.7.1 Middle East & Africa Call Center Outsourcing Market, by Product Type, 2016-2023 (US$ Mn)
6.7.2 Middle East & Africa Call Center Outsourcing Market, by End-use Industry, 2016-2023 (US$ Mn)
6.7.3 Southern Africa
6.7.3.1 Southern Africa Call Center Outsourcing Market, 2016-2023 (US$ Mn)
6.7.4 Northern Africa
6.7.4.1 Northern Africa Call Center Outsourcing Market, 2016-2023 (US$ Mn)
6.7.5 GCC
6.7.5.1 GCC Call Center Outsourcing Market, 2016-2023 (US$ Mn)
6.7.6 Rest of Middle East & Africa
6.7.6.1 Rest of Middle East & Africa Call Center Outsourcing Market, 2016-2023 (US$ Mn)
Chapter 7 Competitive Intelligence
7.1 Introduction
7.2 Players Evaluated During the Study
7.3 Market Players Present in Market Life Cycle
7.4 Top 5 Players Comparison
7.5 Market Positioning of Key Players, 2018
7.6 Market Players Mapping
7.6.1 By Product Type
7.6.2 By End-use Industry
7.6.3 By Region
7.7 Strategies Adopted by Key Market Players
7.8 Recent Developments in the Market
7.8.1 Mergers & Acquisitions, Partnership, New Product Developments
7.9 Operational Efficiency Comparison by Key Players
Chapter 8 Company Profiles
8.1 Accenture
8.1.1 Accenture Overview
8.1.2 Key Stakeholders/Person in Accenture
8.1.3 Accenture Products Portfolio
8.1.4 Accenture Financial Overview
8.1.5 Accenture News/Recent Developments
8.2 Capgemini
8.2.1 Capgemini Overview
8.2.2 Key Stakeholders/Person in Capgemini
8.2.3 Capgemini Products Portfolio
8.2.4 Capgemini Financial Overview
8.2.5 Capgemini News/Recent Developments
8.3 Cognizant
8.3.1 Cognizant Overview
8.3.2 Key Stakeholders/Person in Cognizant
8.3.3 Cognizant Products Portfolio
8.3.4 Cognizant Financial Overview
8.3.5 Cognizant News/Recent Developments
8.4 Go4Customer
8.4.1 Go4Customer Overview
8.4.2 Key Stakeholders/Person in Go4Customer
8.4.3 Go4Customer Products Portfolio
8.4.4 Go4Customer Financial Overview
8.4.5 Go4Customer News/Recent Developments
8.5 HCL Technologies
8.5.1 HCL Technologies Overview
8.5.2 Key Stakeholders/Person in HCL Technologies
8.5.3 HCL Technologies Products Portfolio
8.5.4 HCL Technologies Financial Overview
8.5.5 HCL Technologies News/Recent Developments
8.6 IBM Global Services
8.6.1 IBM Global Services Overview
8.6.2 Key Stakeholders/Person in IBM Global Services
8.6.3 IBM Global Services Products Portfolio
8.6.4 IBM Global Services Financial Overview
8.6.5 IBM Global Services News/Recent Developments
8.7 Infosys
8.7.1 Infosys Overview
8.7.2 Key Stakeholders/Person in Infosys
8.7.3 Infosys Products Portfolio
8.7.4 Infosys Financial Overview
8.7.5 Infosys News/Recent Developments
8.8 Tata Consultancy Services
8.8.1 Tata Consultancy Services Overview
8.8.2 Key Stakeholders/Person in Tata Consultancy Services
8.8.3 Tata Consultancy Services Products Portfolio
8.8.4 Tata Consultancy Services Financial Overview
8.8.5 Tata Consultancy Services News/Recent Developments
8.9 Tech Mahindra
8.9.1 Tech Mahindra Overview
8.9.2 Key Stakeholders/Person in Tech Mahindra
8.9.3 Tech Mahindra Products Portfolio
8.9.4 Tech Mahindra Financial Overview
8.9.5 Tech Mahindra News/Recent Developments
8.10 WNS Global Services
8.10.1 WNS Global Services Overview
8.10.2 Key Stakeholders/Person in WNS Global Services
8.10.3 WNS Global Services Products Portfolio
8.10.4 WNS Global Services Financial Overview
8.10.5 WNS Global Services News/Recent Developments