Global Messaging Platform Market
Global Messaging Platform Market - Segment Analysis, Opportunity Assessment, Competitive Intelligence and Industry Outlook, 2016-2023
|
|
Category : Information Technology
|
Report Format:




Messaging platforms deliver emails as well as unified communication services. The unified communication services include security, instant messaging, social media integration, and voice and video conferencing, alongside numerous functional features. The messaging platform market is witnessing an increasing trend towards the adoption of more advanced communication platforms, which range from email to real-time communications.
Most businesses and consumers use mobiles & PCs as a communication device. The need for a wide range of communication platforms is creating an increasing demand for messaging platforms. The Global Messaging Platform market was valued at US$ 2,123 million in the year 2018 and is expected to reach US$ 3,240 million by the year 2023, growing at a CAGR of approximately 8.1%. The messaging platform market is expected to observe rapid growth due to the increased demand for cloud-based solutions, coupled with virtualization technology.
Global Messaging Platform Market: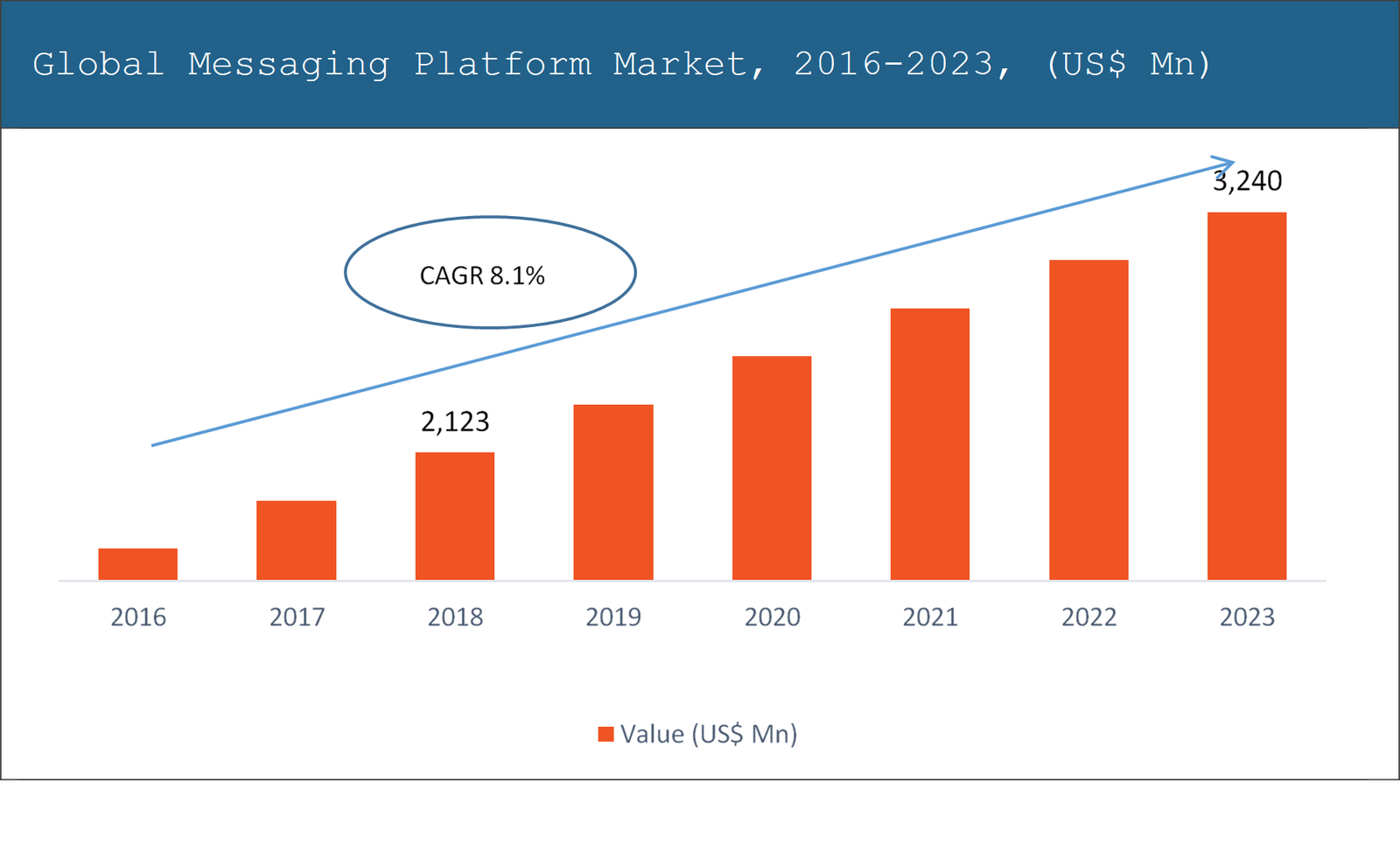 With the increasing number of mobile and other portable device users, the platforms for messaging have become a necessity for the completion of domestic and business activities. These activities will lead to a rise in the expectation of users for the evolution of messaging services across dynamic virtual platforms. In recent times, organizations are opting for organized enterprise social tools. The maintenance of huge data in an organization can create business problems, which can result in the loss of resources and increased cost of operation. For internal communication purposes, organizations have started using different messaging platforms which will help them to recruit and train new employees, and also in in-house collaboration.
The service providers try to do the trade-off between cost and increasing number of users. They need to provide a secure network after establishing a messaging network in the business. Maintaining the efficiency of the messaging platform service is a challenging task for service providers. Downtime and security issues are expected to curtail the growth of the market.
Global Messaging Platform Market Segmentation: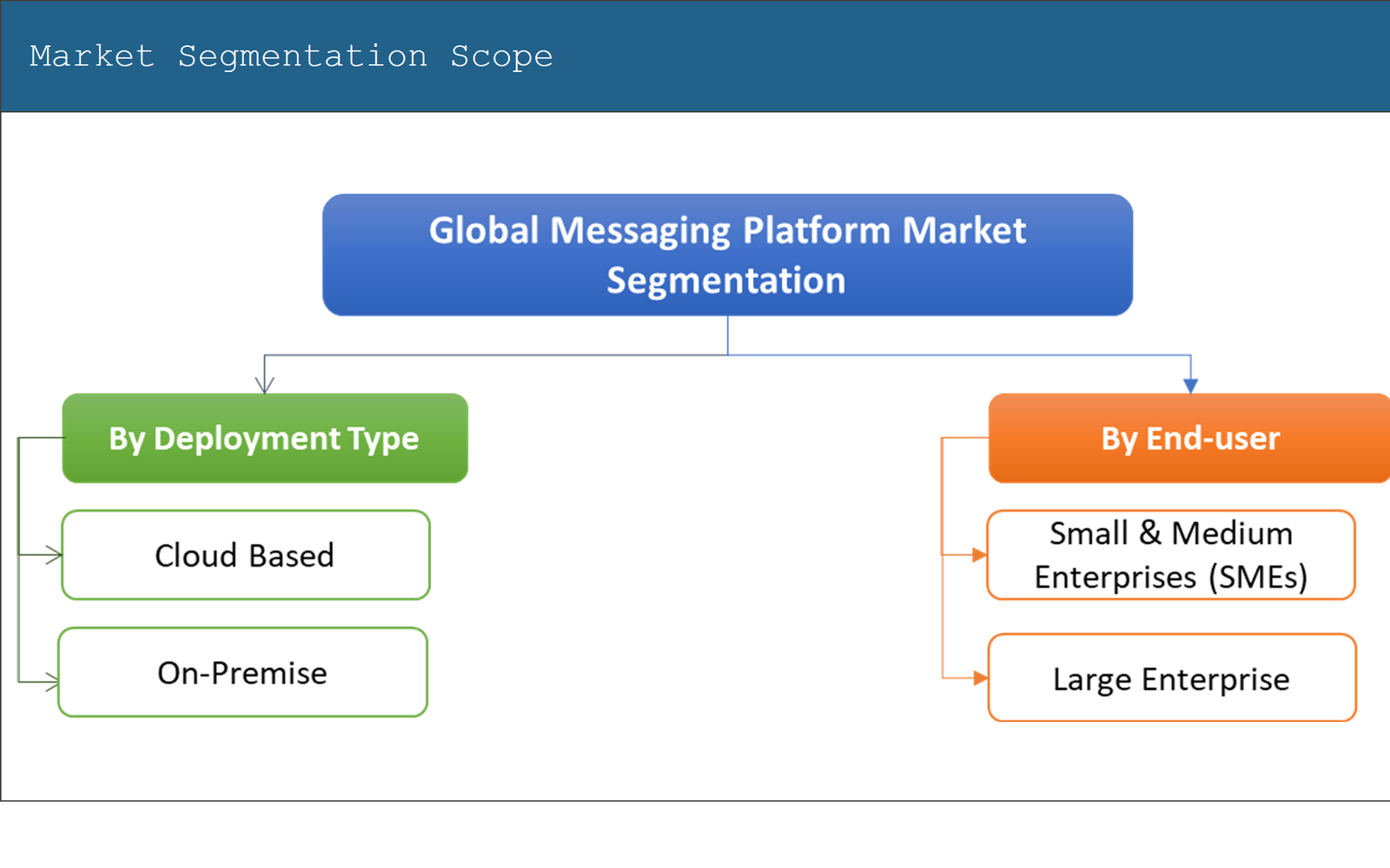 COVID-19 Impact Analysis & Opportunities in Messaging Platform Market:
The outbreak of COVID-19 has bought along with a global recession, which has impacted several industries. Along with this impact, COVID Pandemic has also generated a few new business opportunities for the messaging platform market ecosystem. The overall competitive landscape and market dynamics of the messaging platform have been disrupted due to this pandemic. All these disruptions and impacts have been analyzed quantifiably in this report, which is backed by market trends, events, and revenue shift analysis. COVID impact analysis also covers strategic adjustments for Tier 1, 2, and 3 players of the messaging platform market.
Key Players covered in the Messaging Platform market are:
Atmail (Australia)
Microsoft (US)
IBM (US)
Oracle (US)
Zimbra (US)
Ipswitch (US)
Novell (A part of MicroFocus) (US)
Open-Xchange (Germany)
IceWarp (US)
Openwave Messaging (US)
Geographies covered in Messaging Platform Market Research Report are:
North America
US
Canada
Mexico
Europe
UK
Germany
France
Italy
Spain
Rest of Europe
Asia Pacific
China
Japan
India
South Korea
Southeast Asia
Rest of APAC
Rest of The World
Latin America
Middle East & Africa
Need specific market information ?
Chapter 1 Preface
1.1 Report Description
1.1.1 Purpose of the Report
1.1.2 Target Audience
1.1.3 USP and Key Offerings
1.2 Research Scope
1.3 Research Methodology
1.3.1 Phase I – Secondary Research
1.3.2 Phase II – Primary Research
1.3.3 Phase III – Expert Panel Review
1.3.4 Approach Adopted
1.3.4.1 Top-Down Approach
1.3.4.2 Bottom-Up Approach
1.3.5 Assumptions
1.4 Market Segmentation Scope
Chapter 2 Executive Summary
2.1 Market Summary
2.1.1 Global Messaging Platform Market, 2016-2023, (US$ Mn)
2.1 Market Snapshot: Global Messaging Platform Market
2.2 Market Dynamics
2.3 Global Messaging Platform Market, by Segment, 2018
2.3.1 Global Messaging Platform Market, by Deployment Type, 2018, (US$ Mn)
2.3.2 Global Messaging Platform Market, by End-user, 2018, (US$ Mn)
2.3.3 Global Messaging Platform Market, by Region, 2018 (US$ Mn)
2.4 Premium Insights
2.4.1 Messaging Platform Market In Developed Vs. Developing Economies, 2018 vs 2023
2.4.2 Global Messaging Platform Market: Regional Life Cycle Analysis
Chapter 3 Market Dynamics
3.1 Market Overview
3.2 Market Drivers
3.2.1 Increased demand for cloud-based solutions
3.2.2 Increased demand for virtualization in several businesses
3.3 Market Restraints
3.3.1 Downtime & security concerns
3.4 Market Opportunities
3.4.1 Growing number of SMEs is creating an opportunity for this market
3.5 Industry Value Chain Analysis
3.5.1 Analyst's Views
3.6 Industry SWOT Analysis
Chapter 4 Global Messaging Platform Market, by Deployment Type
4.1 Market Overview, by Deployment Type
4.1.1 Global Messaging Platform Market, by Deployment Type, 2016-2023 (US$ Mn)
4.1.2 Incremental Opportunity, by Deployment Type, From 2018-2023
4.2 On-premise
4.2.1 Global Messaging Platform Market, by On-premise, 2016-2023, (US$ Mn)
4.3 Cloud Based
4.3.1 Global Messaging Platform Market, by Cloud Based, 2016-2023, (US$ Mn)
Chapter 5 Global Messaging Platform Market, by End-user
5.1 Market Overview, by End-user
5.1.1 Global Messaging Platform Market, by End-user, 2016-2023 (US$ Mn)
5.1.2 Incremental Opportunity, by End-user, From 2018-2023
5.2 Small and Medium Enterprises (SMEs)
5.2.1 Global Messaging Platform Market, by Small and Medium Enterprises (SMEs), 2016-2023, (US$ Mn)
5.3 Large Enterprise
5.3.1 Global Messaging Platform Market, by Large Enterprise, 2016-2023, (US$ Mn)
Chapter 6 Global Messaging Platform Market, by Region
6.1 Market Overview, by Region
6.1.1 Global Messaging Platform Market, by Region, 2016-2023, (US$ Mn)
6.2 Attractive Investment Opportunity, by Region, 2018
6.3 North America Messaging Platform Market
6.3.1 North America Messaging Platform Market, by Deployment Type, 2016-2023 (US$ Mn)
6.3.2 North America Messaging Platform Market, by End-user, 2016-2023 (US$ Mn)
6.3.3 United States Country Profile
6.3.3.1 United States Messaging Platform Market, 2016-2023 (US$ Mn)
6.3.4 Canada Country Profile
6.3.4.1 Canada Messaging Platform Market, 2016-2023 (US$ Mn)
6.3.5 Mexico Country Profile
6.3.5.1 Mexico Messaging Platform Market, 2016-2023 (US$ Mn)
6.4 Europe Messaging Platform Market
6.4.1 Europe Messaging Platform Market, by Deployment Type, 2016-2023 (US$ Mn)
6.4.2 Europe Messaging Platform Market, by End-user, 2016-2023 (US$ Mn)
6.4.3 United Kingdom Country Profile
6.4.3.1 United Kingdom Messaging Platform Market, 2016-2023 (US$ Mn)
6.4.4 Germany Country Profile
6.4.4.1 Germany Messaging Platform Market, 2016-2023 (US$ Mn)
6.4.5 France Country Profile
6.4.5.1 France Messaging Platform Market, 2016-2023 (US$ Mn)
6.4.6 Italy Country Profile
6.4.6.1 Italy Messaging Platform Market, 2016-2023 (US$ Mn)
6.4.7 Spain Country Profile
6.4.7.1 Spain Messaging Platform Market, 2016-2023 (US$ Mn)
6.4.8 Rest of Europe
6.4.8.1 Rest of Europe Messaging Platform Market, 2016-2023 (US$ Mn)
6.5 Asia Pacific Messaging Platform Market
6.5.1 Asia Pacific Messaging Platform Market, by Deployment Type, 2016-2023 (US$ Mn)
6.5.2 Asia Pacific Messaging Platform Market, by End-user, 2016-2023 (US$ Mn)
6.5.3 China Country Profile
6.5.3.1 China Messaging Platform Market, 2016-2023 (US$ Mn)
6.5.4 Japan Country Profile
6.5.4.1 Japan Messaging Platform Market, 2016-2023 (US$ Mn)
6.5.5 India Country Profile
6.5.5.1 India Messaging Platform Market, 2016-2023 (US$ Mn)
6.5.6 South Korea Country Profile
6.5.6.1 South Korea Messaging Platform Market, 2016-2023 (US$ Mn)
6.5.7 Southeast Asia
6.5.7.1 Southeast Asia Messaging Platform Market, 2016-2023 (US$ Mn)
6.5.8 Rest of Asia Pacific
6.5.8.1 Rest of Asia Pacific Messaging Platform Market, 2016-2023 (US$ Mn)
6.6 Rest of The World Messaging Platform Market
6.6.1 Rest of The World Messaging Platform Market, by Deployment Type, 2016-2023 (US$ Mn)
6.6.2 Rest of The World Messaging Platform Market, by End-user, 2016-2023 (US$ Mn)
6.6.2.1 Latin America Messaging Platform Market, 2016-2023 (US$ Mn)
6.6.2.2 Middle East & Africa Messaging Platform Market, 2016-2023 (US$ Mn)
Chapter 7 Competitive Intelligence
7.1 Introduction
7.2 Players Evaluated During the Study
7.3 Market Players Present in Market Life Cycle
7.4 Top 5 Players Comparison
7.5 Market Positioning of Key Players, 2018
7.6 Market Players Mapping
7.6.1 By Deployment Type
7.6.2 By End-user
7.6.3 By Region
7.7 Strategies Adopted by Key Market Players
7.8 Recent Developments in the Market
7.8.1 Mergers & Acquisitions, Partnership, New Product Developments
7.9 Operational Efficiency Comparison by Key Players
Chapter 8 Company Profiles
8.1 Atmail
8.1.1 Atmail Overview
8.1.2 Key Stakeholders/Person in Atmail
8.1.3 Atmail Products Portfolio
8.1.4 Atmail Financial Overview
8.1.5 Atmail News/Recent Developments
8.2 Microsoft
8.2.1 Microsoft Overview
8.2.2 Key Stakeholders/Person in Microsoft
8.2.3 Microsoft Products Portfolio
8.2.4 Microsoft Financial Overview
8.2.5 Microsoft News/Recent Developments
8.3 IBM
8.3.1 IBM Overview
8.3.2 Key Stakeholders/Person in IBM
8.3.3 IBM Products Portfolio
8.3.4 IBM Financial Overview
8.3.5 IBM News/Recent Developments
8.4 Oracle
8.4.1 Oracle Overview
8.4.2 Key Stakeholders/Person in Oracle
8.4.3 Oracle Products Portfolio
8.4.4 Oracle Financial Overview
8.4.5 Oracle News/Recent Developments
8.5 Zimbra
8.5.1 Zimbra Overview
8.5.2 Key Stakeholders/Person in Zimbra
8.5.3 Zimbra Products Portfolio
8.5.4 Zimbra Financial Overview
8.5.5 Zimbra News/Recent Developments
8.6 Ipswitch
8.6.1 Ipswitch Overview
8.6.2 Key Stakeholders/Person in Ipswitch
8.6.3 Ipswitch Products Portfolio
8.6.4 Ipswitch Financial Overview
8.6.5 Ipswitch News/Recent Developments
8.7 Novell
8.7.1 Novell Overview
8.7.2 Key Stakeholders/Person in Novell
8.7.3 Novell Products Portfolio
8.7.4 Novell Financial Overview
8.7.5 Novell News/Recent Developments
8.8 Open-Xchange
8.8.1 Open-Xchange Overview
8.8.2 Key Stakeholders/Person in Open-Xchange
8.8.3 Open-Xchange Products Portfolio
8.8.4 Open-Xchange Financial Overview
8.8.5 Open-Xchange News/Recent Developments
8.9 IceWrap
8.9.1 IceWrap Overview
8.9.2 Key Stakeholders/Person in IceWrap
8.9.3 IceWrap Products Portfolio
8.9.4 IceWrap Financial Overview
8.9.5 IceWrap News/Recent Developments
8.10 Openwave Messaging
8.10.1 Openwave Messaging Overview
8.10.2 Key Stakeholders/Person in Openwave Messaging
8.10.3 Openwave Messaging Products Portfolio
8.10.4 Openwave Messaging Financial Overview
8.10.5 Openwave Messaging News/Recent Developments