Global TV Transmitter Market - Segment Analysis, Opportunity Assessment, Competitive Intelligence, Industry Outlook 2016-2023
|
|
Category : Information Technology
|
Report Format:




The global TV Transmitter market was valued at US$ xx million in the year 2018 and is expected to reach US$ xx million by the year 2023, growing at a CAGR of approximately 3.1%. Television is undergoing a huge transformation with the rise of the internet and digital technologies. The traditional TV accounts for a larger share in the market, however, the online TV sector is creating a disruption in the market. Earlier, broadcasting vendors were targeting the wide audience in order to increase their market growth.
In electronics and communications, a transmitter is a device which produces radio waves or electromagnetic signals and sends them to the TV receivers. A TV transmitter comprises audio and video modulator for emitting the video and audio signals. The video signal consists of moving images and the audio signal consists of synchronized audios. The video signal is generated through the TV camera and the audio signal is generated by the microphone. These transmitters are capable of broadcasting signals with the help of ultra-high frequency (UHF) or very high frequency (VHF) transmission.
Global TV Transmitter Market Size, 2016-2023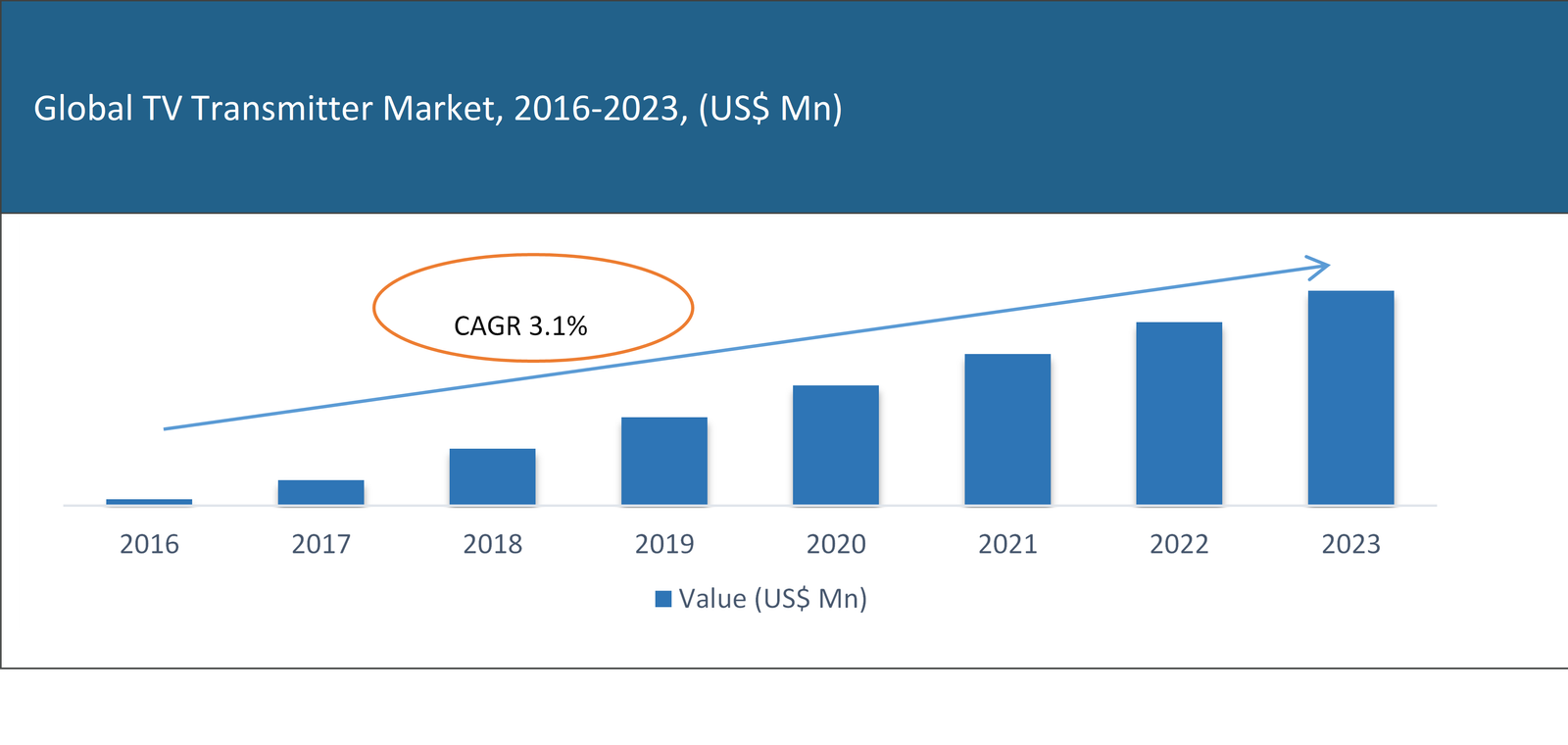 A large number of transmitters in a region ensure wide transmission coverage in that particular area. Changing consumer demographics in developing countries and the rising trend for online TV are propelling the growth of the TV Transmitter Market. Geographically, Europe accounts for the largest share in TV transmitter market due to the presence of the highest number of users in this region. The Asia-Pacific region is also growing at a good pace due to the increasing disposable income in countries like India and China. However, the bandwidth issues associated with TV transmitters and the range of the transmitters are expected to curtail the growth of the TV Transmitter Market.
Global TV Transmitter Market Segmentation Scope:
By Tyep
1.VHF ( Very-high frequency)
Low Power TV Transmitters
Medium Power TV Transmitters
High Power TV Transmitters
2.UHF ( Ultra-high frequency)
Low Power TV Transmitters
Medium Power TV Transmitters
High Power TV Transmitters
By Application
Small TV Stations
Medium TV Stations
Large TV Stations
By Distribution Channel
Third Party
Company Owned
Geographies covered in TV Transmitter Market
North America
Europe
UK
Germany
France
Italy
Spain
Rest of Europe
Asia Pacific
China
Japan
India
South Korea
Southeast Asia
Rest of APAC
Rest of The World
Latin America
Middle East & Africa
Key Players of TV Transmitter Market are
Rohde & Schwarz (Germany)
NEC Corporation (Japan)
Toshiba (Japan)
Syes (Italy)
Hitachi Kokusai Electric Group (Japan)
Giga Mega Technology (China)
Egatel (Spain)
Chengdu Cheng Guang (China)
Thomson Broadcast (France)
Italtelec (Italy)
Need specific market information ?
Table of Content
Chapter 1 Preface
1.1 Report Description
1.1.1 Purpose of the Report
1.1.2 Target Audience
1.1.3 USP and Key Offerings
1.2 Research Scope
1.3 Research Methodology
1.3.1 Phase I – Secondary Research
1.3.2 Phase II – Primary Research
1.3.3 Phase III – Expert Panel Review
1.3.4 Approach Adopted
1.3.4.1 Top-Down Approach
1.3.4.2 Bottom-Up Approach
1.3.5 Assumptions
1.4 Market Segmentation Scope
Chapter 2 Executive Summary
2.1 Market Summary
2.1.1 Global TV Transmitter Market, 2016-2023, (US$ Mn)
2.1 Market Snapshot: Global TV Transmitter Market
2.2 Market Dynamics
2.3 Global TV Transmitter Market, by Segment, 2018
2.3.1 Global TV Transmitter Market, by Type, 2018, (US$ Mn)
2.3.2 Global TV Transmitter Market, by Application, 2018, (US$ Mn)
2.3.3 Global TV Transmitter Market, by Distribution Type, 2018, (US$ Mn)
2.3.4 Global TV Transmitter Market, by Region, 2018 (US$ Mn)
2.4 Premium Insights
2.4.1 TV Transmitter Market In Developed Vs. Developing Economies, 2018 vs 2023
2.4.2 Global TV Transmitter Market: Regional Life Cycle Analysis
Chapter 3 Market Dynamics
3.1 Market Overview
3.2 Market Drivers
3.2.1 Increasing trend for online TV
3.2.2 Changing consumer demographics
3.3 Market Restraints
3.3.1 Bandwidth issues related to transmitter
3.4 Market Opportunities
3.4.1 Increasing demand in developed economies
3.5 Industry Value Chain Analysis
3.5.1 Analyst's Views
3.6 Industry SWOT Analysis
Chapter 4 Global TV Transmitter Market, by Type
4.1 Market Overview, by Type
4.1.1 Global TV Transmitter Market, by Type, 2016-2023 (US$ Mn)
4.1.2 Incremental Opportunity, by Type, From 2018-2023
4.2 VHF
4.2.1 Global TV Transmitter Market, by VHF, 2016-2023, (US$ Mn)
4.2.2 Low Power TV Transmitter
4.2.2.1 Global TV Transmitter Market, by Low Power TV Transmitter, 2016-2023, (US$ Mn)
4.2.3 Medium Power TV Transmitter
4.2.3.1 Global TV Transmitter Market, by Medium Power TV Transmitter, 2016-2023, (US$ Mn)
4.2.4 High Power TV Transmitter
4.2.4.1 Global TV Transmitter Market, by High Power TV Transmitter, 2016-2023, (US$ Mn)
4.3 UHF
4.3.1 Global TV Transmitter Market, by UHF, 2016-2023, (US$ Mn)
4.3.2 Low Power TV Transmitter
4.3.2.1 Global TV Transmitter Market, by Low Power TV Transmitter, 2016-2023, (US$ Mn)
4.3.3 Medium Power TV Transmitter
4.3.3.1 Global TV Transmitter Market, by Medium Power TV Transmitter, 2016-2023, (US$ Mn)
4.3.4 High Power TV Transmitter
4.3.4.1 Global TV Transmitter Market, by High Power TV Transmitter, 2016-2023, (US$ Mn)
Chapter 5 Global TV Transmitter Market, by Application
5.1 Market Overview, by Application
5.1.1 Global TV Transmitter Market, by Application, 2016-2023 (US$ Mn)
5.1.2 Incremental Opportunity, by Application, From 2018-2023
5.2 Small TV Station
5.2.1 Global TV Transmitter Market, by Small TV Station, 2016-2023, (US$ Mn)
5.3 Medium TV Station
5.3.1 Global TV Transmitter Market, by Medium TV Station, 2016-2023, (US$ Mn)
5.4 Large TV Station
5.4.1 Global TV Transmitter Market, by Large TV Station, 2016-2023, (US$ Mn)
Chapter 6 Global TV Transmitter Market, by Distribution Type
6.1 Market Overview, by Distribution Type
6.1.1 Global TV Transmitter Market, by Distribution Type, 2016-2023 (US$ Mn)
6.1.2 Incremental Opportunity, by Distribution Type, From 2018-2023
6.2 Third Party
6.2.1 Global TV Transmitter Market, by Third Party, 2016-2023, (US$ Mn)
6.3 Company Owned
6.3.1 Global TV Transmitter Market, by Company Owned, 2016-2023, (US$ Mn)
Chapter 7 Global TV Transmitter Market, by Region
7.1 Market Overview, by Region
7.1.1 Global TV Transmitter Market, by Region, 2016-2023, (US$ Mn)
7.2 Attractive Investment Opportunity, by Region, 2018
7.3 North America TV Transmitter Market
7.3.1 North America TV Transmitter Market, by Type, 2016-2023 (US$ Mn)
7.3.2 North America TV Transmitter Market, by Application, 2016-2023 (US$ Mn)
7.3.3 North America TV Transmitter Market, by Distribution Type, 2016-2023 (US$ Mn)
7.3.4 United States Country Profile
7.3.4.1 United States TV Transmitter Market, 2016-2023 (US$ Mn)
7.3.5 Canada Country Profile
7.3.5.1 Canada TV Transmitter Market, 2016-2023 (US$ Mn)
7.3.6 Mexico Country Profile
7.3.6.1 Mexico TV Transmitter Market, 2016-2023 (US$ Mn)
7.4 Europe TV Transmitter Market
7.4.1 Europe TV Transmitter Market, by Type, 2016-2023 (US$ Mn)
7.4.2 Europe TV Transmitter Market, by Application, 2016-2023 (US$ Mn)
7.4.3 Europe TV Transmitter Market, by Distribution Type, 2016-2023 (US$ Mn)
7.4.4 United Kingdom Country Profile
7.4.4.1 United Kingdom TV Transmitter Market, 2016-2023 (US$ Mn)
7.4.5 Germany Country Profile
7.4.5.1 Germany TV Transmitter Market, 2016-2023 (US$ Mn)
7.4.6 France Country Profile
7.4.6.1 France TV Transmitter Market, 2016-2023 (US$ Mn)
7.4.7 Italy Country Profile
7.4.7.1 Italy TV Transmitter Market, 2016-2023 (US$ Mn)
7.4.8 Spain Country Profile
7.4.8.1 Spain TV Transmitter Market, 2016-2023 (US$ Mn)
7.4.9 Rest of Europe
7.4.9.1 Rest of Europe TV Transmitter Market, 2016-2023 (US$ Mn)
7.5 Asia Pacific TV Transmitter Market
7.5.1 Asia Pacific TV Transmitter Market, by Type, 2016-2023 (US$ Mn)
7.5.2 Asia Pacific TV Transmitter Market, by Application, 2016-2023 (US$ Mn)
7.5.3 Asia Pacific TV Transmitter Market, by Distribution Type, 2016-2023 (US$ Mn)
7.5.4 China Country Profile
7.5.4.1 China TV Transmitter Market, 2016-2023 (US$ Mn)
7.5.5 Japan Country Profile
7.5.5.1 Japan TV Transmitter Market, 2016-2023 (US$ Mn)
7.5.6 India Country Profile
7.5.6.1 India TV Transmitter Market, 2016-2023 (US$ Mn)
7.5.7 South Korea Country Profile
7.5.7.1 South Korea TV Transmitter Market, 2016-2023 (US$ Mn)
7.5.8 Southeast Asia
7.5.8.1 Southeast Asia TV Transmitter Market, 2016-2023 (US$ Mn)
7.5.9 Rest of Asia Pacific
7.5.9.1 Rest of Asia Pacific TV Transmitter Market, 2016-2023 (US$ Mn)
7.6 Rest of The World TV Transmitter Market
7.6.1 Rest of The World TV Transmitter Market, by Type, 2016-2023 (US$ Mn)
7.6.2 Rest of The World TV Transmitter Market, by Application, 2016-2023 (US$ Mn)
7.6.3 Rest of The World TV Transmitter Market, by Distribution Type, 2016-2023 (US$ Mn)
7.6.3.1 Latin America TV Transmitter Market, 2016-2023 (US$ Mn)
7.6.3.2 Middle East & Africa TV Transmitter Market, 2016-2023 (US$ Mn)
Chapter 8 Competitive Intelligence
8.1 Introduction
8.2 Players Evaluated During the Study
8.3 Market Players Present in Market Life Cycle
8.4 Top 5 Players Comparison
8.5 Market Positioning of Key Players, 2018
8.6 Market Players Mapping
8.6.1 By Type
8.6.2 By Application
8.6.3 By Distribution Type
8.6.4 By Region
8.7 Strategies Adopted by Key Market Players
8.8 Recent Developments in the Market
8.8.1 Mergers & Acquisitions, Partnership, New Product Developments
8.9 Operational Efficiency Comparison by Key Players
Chapter 9 Company Profiles
9.1 Rohde & Schwarz
9.1.1 Rohde & Schwarz Overview
9.1.2 Key Stakeholders/Person in Rohde & Schwarz
9.1.3 Rohde & Schwarz Products Portfolio
9.1.4 Rohde & Schwarz Financial Overview
9.1.5 Rohde & Schwarz News/Recent Developments
9.2 NEC Corporation
9.2.1 NEC Corporation Overview
9.2.2 Key Stakeholders/Person in NEC Corporation
9.2.3 NEC Corporation Products Portfolio
9.2.4 NEC Corporation Financial Overview
9.2.5 NEC Corporation News/Recent Developments
9.3 Toshiba
9.3.1 Toshiba Overview
9.3.2 Key Stakeholders/Person in Toshiba
9.3.3 Toshiba Products Portfolio
9.3.4 Toshiba Financial Overview
9.3.5 Toshiba News/Recent Developments
9.4 Syes
9.4.1 Syes Overview
9.4.2 Key Stakeholders/Person in Syes
9.4.3 Syes Products Portfolio
9.4.4 Syes Financial Overview
9.4.5 Syes News/Recent Developments
9.5 Hitachi Kokusai Electric Group
9.5.1 Hitachi Kokusai Electric Group Overview
9.5.2 Key Stakeholders/Person in Hitachi Kokusai Electric Group
9.5.3 Hitachi Kokusai Electric Group Products Portfolio
9.5.4 Hitachi Kokusai Electric Group Financial Overview
9.5.5 Hitachi Kokusai Electric Group News/Recent Developments
9.6 Giga Mega Technology
9.6.1 Giga Mega Technology Overview
9.6.2 Key Stakeholders/Person in Giga Mega Technology
9.6.3 Giga Mega Technology Products Portfolio
9.6.4 Giga Mega Technology Financial Overview
9.6.5 Giga Mega Technology News/Recent Developments
9.7 Egatel
9.7.1 Egatel Overview
9.7.2 Key Stakeholders/Person in Egatel
9.7.3 Egatel Products Portfolio
9.7.4 Egatel Financial Overview
9.7.5 Egatel News/Recent Developments
9.8 Chengdu Cheng Guang
9.8.1 Chengdu Cheng Guang Overview
9.8.2 Key Stakeholders/Person in Chengdu Cheng Guang
9.8.3 Chengdu Cheng Guang Products Portfolio
9.8.4 Chengdu Cheng Guang Financial Overview
9.8.5 Chengdu Cheng Guang News/Recent Developments
9.9 Thomson Broadcast
9.9.1 Thomson Broadcast Overview
9.9.2 Key Stakeholders/Person in Thomson Broadcast
9.9.3 Thomson Broadcast Products Portfolio
9.9.4 Thomson Broadcast Financial Overview
9.9.5 Thomson Broadcast News/Recent Developments
9.10 Italtelec
9.10.1 Italtelec Overview
9.10.2 Key Stakeholders/Person in Italtelec
9.10.3 Italtelec Products Portfolio
9.10.4 Italtelec Financial Overview
9.10.5 Italtelec News/Recent Developments