Global Pressure Sensor Market- Segment Analysis, Opportunity Assessment, Competitive Intelligence, Industry Outlook 2016-2026
|
|
Category : Semiconductor & Electronics
|
Report Format:




The global pressure sensor market was valued at USD 9.24 billion in 2018 and is expected to reach USD 14.08 billion in 2026, growing at a CAGR of 6.4% during the forecast period.
The pressure sensor is an instrument that is used specifically for pressure gauging of different types of gases and liquids. Working with a pressure sensor usually involves it generating a signal which acts as a function of the externally applied pressure, thus a pressure sensor works as a pressure transducer. Major applications of pressure sensors include monitoring and controlling of pressure parameters in certain industrial processes as well as measuring additional variable parameters including fluid flow speed and volume, fluid level in a particular system, and altitude of fluid storage. The global pressure market is hugely benefitted by the increasing technological advancement in terms of the development of miniature sensors that support the industrial trend of offering compact electronic devices, thus leading to plenty of new opportunities for the pressure sensors industry growth. Major industry players are investing a substantial amount of resources in order to develop modern pressure sensors that are capable of efficiently functioning in hazardous scenarios such as chemical factories and bioreactors where pressure maintenance is a critical task to ensure the safety of the surrounding environment and people. Industry players are constantly updating their offerings in order to meet stringent worker safety regulations imposed by various governments. These factors are anticipated to drive the global market towards further growth during the forecast period.
By Type

Absolute Pressure Sensors
Differential Pressure Sensors
Vacuum Pressure Sensors
Sealed Pressure Sensors

By Technology

Piezoresistive
Capacitive
Electromagnetic
Resonant Solid State
Optical
Others

By Application

Automotive
Oil & Gas
Consumer Electronics
Medical
Utilities
Industrial
Aviation
Marine
Others

By Region

North America (US and Canada)
Europe (UK, Germany, France and Rest of Europe)
Asia Pacific (China, Japan, India and Rest of Asia Pacific)
Latin America (Brazil, Argentina and Rest of Latin America)
Middle East & Africa (GCC and Rest of Middle East & Africa)
Newer application fields of pressure sensors have been discovered owing to advancement in capabilities of piezoresistive sensor technology which has resulted in growth in opportunities in the global market. Induction of microelectromechanical system (MEMS) technology in pressure sensors has positively impacted the demand growth in emerging economies. Moreover, advancement in medical device technology and the rise of electric vehicles are some of the major factors which are expected to spur the demand for pressure sensor in the coming years.
Global Pressure Sensor Market, 2016-2026, (US$ Bn)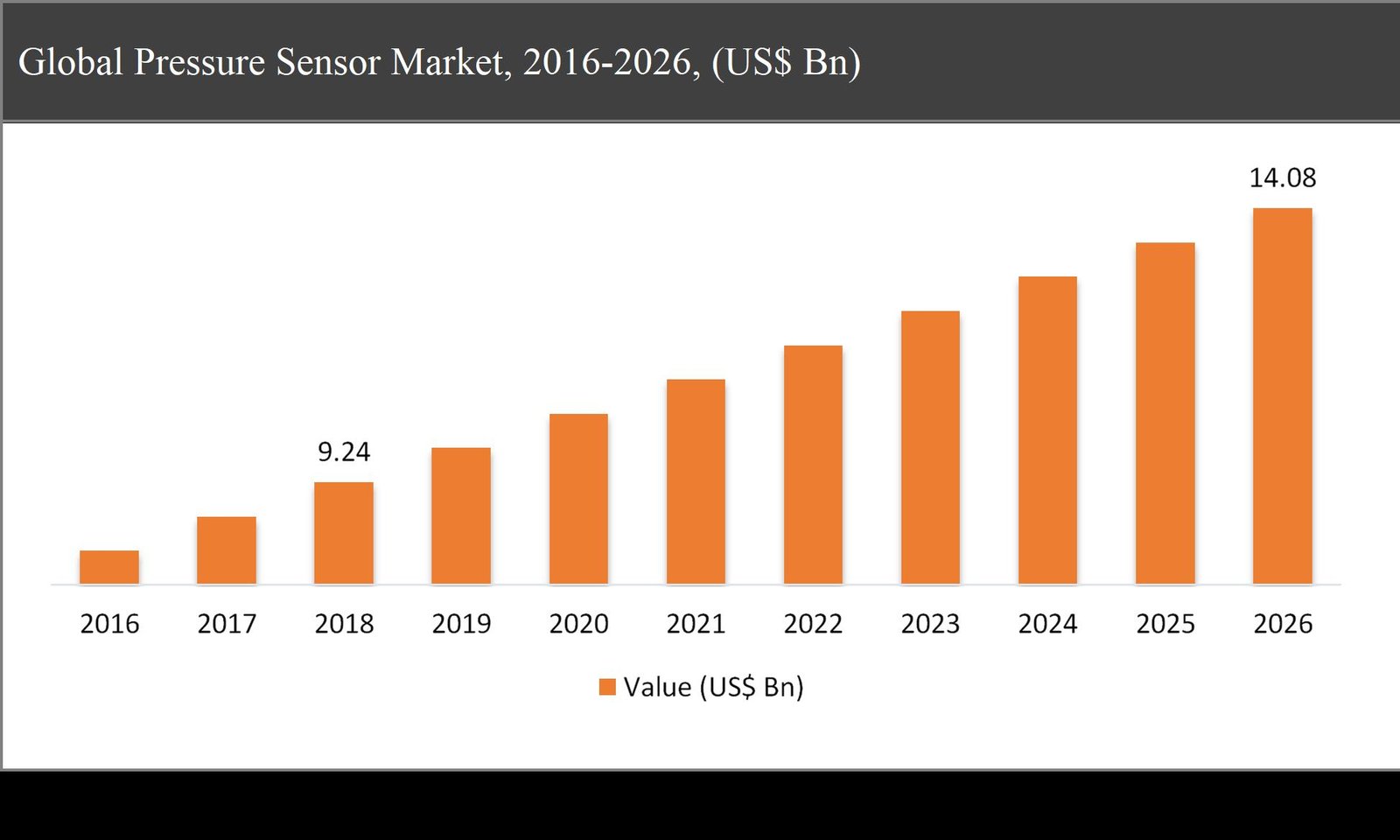 The global pressure sensor industry is hugely benefitted by factors, such as, technological advancement in terms of MEMS, demand for electric vehicles and trend of miniaturization of electronic devices. Cumulatively, these factors are expected to propel the growth of pressure sensor industry and offer lucrative opportunities in near future.
The absolute pressure sensors type of pressure sensor is expected to grow at the fastest rate of 10.1% CAGR during the forecast period in pressure sensor industry globally
Based on the type, the global pressure sensor market has been segmented into absolute pressure sensors, differential pressure sensors, vacuum pressure sensors, and sealed pressure sensors. The absolute pressure sensors is expected to grow at the highest CAGR of around 10.1% during the forecast period. Absolute pressure sensors offer pressure reading with reference to vacuum pressure. These types of pressure sensors are commonly used on applications involving high altitude such as airports and aerospace. Rising investments is defence sector is one of the key driving factors for segmental growth in global market.
Based on technology, the piezoresistive pressure sensors segment is anticipated to grow at fastest rate during the forecast period
Based on the technology, the market has been segmented into piezoresistive pressure sensors, capacitive pressure sensors, electromagnetic pressure sensors, resonant solid state pressure sensors, and optical pressure sensors among others. Growing adoption of piezoresistive technology in sensor development is fuelling the demand for pressure sensor globally.
Based on the application, the oil & gas segment is expected to lead the market
Based on the application, the market has been segmented into automotive, oil & gas, consumer electronics, medical, utilities, industrial, aviation, marine, and others. The oil & gas industry segment is expected to hold nearly 31% in the global market in 2018. Growing oilfield exploration activities that are coupled with the demand from oil & gas vertical is resulting in segmental growth in the global market.
North America to dominate the pressure sensor market throughout the forecast period
North America region is by far the largest contributor to the growth of the global pressure sensor market which contributed more than 33% market share globally. However, the Asia Pacific region is anticipated to showcase the highest growth rate during forecast period owing to intensifying population demands and market positioning from global industry players.
Company Profiles and Competitive Intelligence:
The major players operating in the global pressure sensor market are Honeywell (US), ABB (Switzerland), NXP Semiconductors (Netherland), Infineon Technologies (Germany), Emerson Electric (US), General Electric (US), Siemens (Germany), STMicroelectronics (Switzerland), Robert Bosch (Germany), and TE Connectivity (Germany) among others.
Need specific market information ?
TABLE OF CONTENT
Chapter 1 Executive Summary
1.1. Market Summary
1.1.1. Global Pressure Sensor Market, 2016-2026, (USD Million)
1.2. Market Snapshot: Global Pressure Sensor Market
1.3. Market Dynamics
1.4. Global Pressure Sensor Market, by Segment, 2018
1.4.1. Global Pressure Sensor Market, by Type, 2018, (USD Million)
1.4.2. Global Pressure Sensor Market, by Technology, 2018, (USD Million)
1.4.3. Global Pressure Sensor Market, by Application, 2018, (USD Million)
1.4.4. Global Pressure Sensor Market, by Region, 2018 (USD Million)
1.5. Premium Insights
1.5.1. Pressure Sensor Market In Developed Vs. Developing Economies, 2018 vs 2026
1.5.2. Global Pressure Sensor Market: Regional Life Cycle Analysis
Chapter 2 Market Dynamics
2.1. Market Overview
2.2. Market Drivers
2.2.1. Technological advancements in MEMS sector
2.2.2. Rapid adoption of connected devices
2.3. Market Restraints
2.3.1. Volatile prices
2.3.2. Highly complex and expensive manufacturing
2.4. Market Opportunities
2.4.1. The evolution of electric vehicles
2.4.2. Increase demand for mini-sized component
2.5. Industry Value Chain Analysis
2.6. Pricing Analysis
2.7. Porter's Five Forces Analysis
Chapter 3 Global Pressure Sensor Market, by Type
3.1. Market Overview, by Type
3.1.1. Global Pressure Sensor Market, by Type, 2016-2026 (USD Million)
3.1.2. Incremental Opportunity, by Type, 2018
3.2. Absolute Pressure Sensors
3.2.1. Global Pressure Sensor Market, by Absolute Pressure Sensors, 2016-2026, (USD Million)
3.3. Differential Pressure Sensors
3.3.1. Global Pressure Sensor Market, by Differential Pressure Sensors, 2016-2026, (USD Million)
3.4. Vacuum Pressure Sensors
3.4.1. Global Pressure Sensor Market, by Vacuum Pressure Sensors, 2016-2026, (USD Million)
3.5. Sealed Pressure Sensors
3.5.1. Global Pressure Sensor Market, by Sealed Pressure Sensors, 2016-2026, (USD Million)
Chapter 4 Global Pressure Sensor Market, by Technology
4.1. Market Overview, by Technology
4.1.1. Global Pressure Sensor Market, by Technology, 2016-2026 (USD Million)
4.1.2. Incremental Opportunity, by Technology, 2018
4.2. Piezoresistive
4.2.1. Global Pressure Sensor Market, by Piezoresistive, 2016-2026, (USD Million)
4.3. Capacitive
4.3.1. Global Pressure Sensor Market, by Capacitive, 2016-2026, (USD Million)
4.4. Electromagnetic
4.4.1. Global Pressure Sensor Market, by Electromagnetic, 2016-2026, (USD Million)
4.5. Resonant Solid State
4.5.1. Global Pressure Sensor Market, by Resonant Solid State, 2016-2026, (USD Million)
4.6. Optical
4.6.1. Global Pressure Sensor Market, by Optical, 2016-2026, (USD Million)
4.7. Others
4.7.1. Global Pressure Sensor Market, by Others, 2016-2026, (USD Million)
Chapter 5 Global Pressure Sensor Market, by Application
5.1. Market Overview, by Application
5.1.1. Global Pressure Sensor Market, by Application, 2016-2026 (USD Million)
5.1.2. Incremental Opportunity, by Application, 2018
5.2. Automotive
5.2.1. Global Pressure Sensor Market, by Automotive, 2016-2026, (USD Million)
5.3. Oil & Gas
5.3.1. Global Pressure Sensor Market, by Oil & Gas, 2016-2026, (USD Million)
5.4. Consumer Electronics
5.4.1. Global Pressure Sensor Market, by Consumer Electronics, 2016-2026, (USD Million)
5.5. Medical
5.5.1. Global Pressure Sensor Market, by Medical, 2016-2026, (USD Million)
5.6. Utilities
5.6.1. Global Pressure Sensor Market, by Utilities, 2016-2026, (USD Million)
5.7. Industrial
5.7.1. Global Pressure Sensor Market, by Industrial, 2016-2026, (USD Million)
5.8. Aviation
5.8.1. Global Pressure Sensor Market, by Aviation, 2016-2026, (USD Million)
5.9. Marine
5.9.1. Global Pressure Sensor Market, by Marine, 2016-2026, (USD Million)
5.10. Others
5.10.1. Global Pressure Sensor Market, by Others, 2016-2026, (USD Million)
Chapter 6 Global Pressure Sensor Market, by Region
6.1. Market Overview, by Region
6.1.1. Global Pressure Sensor Market, by Region, 2016-2026, (USD Million)
6.2. Attractive Investment Opportunity, by Region, 2018
6.3. North America Pressure Sensor Market
6.3.1. North America Pressure Sensor Market, by Type, 2016-2026 (USD Million)
6.3.2. North America Pressure Sensor Market, by Technology, 2016-2026 (USD Million)
6.3.3. North America Pressure Sensor Market, by Application, 2016-2026 (USD Million)
6.3.4. United States Pressure Sensor Market, 2016-2026 (USD Million)
6.3.5. Canada Pressure Sensor Market, 2016-2026 (USD Million)
6.4. Europe Pressure Sensor Market
6.4.1. Europe Pressure Sensor Market, by Type, 2016-2026 (USD Million)
6.4.2. Europe Pressure Sensor Market, by Technology, 2016-2026 (USD Million)
6.4.3. Europe Pressure Sensor Market, by Application, 2016-2026 (USD Million)
6.4.4. United Kingdom Pressure Sensor Market, 2016-2026 (USD Million)
6.4.5. Germany Pressure Sensor Market, 2016-2026 (USD Million)
6.4.6. France Pressure Sensor Market, 2016-2026 (USD Million)
6.4.7. Rest of Europe Pressure Sensor Market, 2016-2026 (USD Million)
6.5. Asia Pacific Pressure Sensor Market
6.5.1. Asia Pacific Pressure Sensor Market, by Type, 2016-2026 (USD Million)
6.5.2. Asia Pacific Pressure Sensor Market, by Technology, 2016-2026 (USD Million)
6.5.3. Asia Pacific Pressure Sensor Market, by Application, 2016-2026 (USD Million)
6.5.4. China Pressure Sensor Market, 2016-2026 (USD Million)
6.5.5. Japan Pressure Sensor Market, 2016-2026 (USD Million)
6.5.6. India Pressure Sensor Market, 2016-2026 (USD Million)
6.5.7. Rest of Asia Pacific Pressure Sensor Market, 2016-2026 (USD Million)
6.6. Latin America Pressure Sensor Market
6.6.1. Latin America Pressure Sensor Market, by Type, 2016-2026 (USD Million)
6.6.2. Latin America Pressure Sensor Market, by Technology, 2016-2026 (USD Million)
6.6.3. Latin America Pressure Sensor Market, by Application, 2016-2026 (USD Million)
6.6.4. Brazil Pressure Sensor Market, 2016-2026 (USD Million)
6.6.5. Mexico Pressure Sensor Market, 2016-2026 (USD Million)
6.6.6. Rest of Latin America Pressure Sensor Market, 2016-2026 (USD Million)
6.7. Middle East & Africa Pressure Sensor Market
6.7.1. Middle East & Africa Pressure Sensor Market, by Type, 2016-2026 (USD Million)
6.7.2. Middle East & Africa Pressure Sensor Market, by Technology, 2016-2026 (USD Million)
6.7.3. Middle East & Africa Pressure Sensor Market, by Application, 2016-2026 (USD Million)
6.7.4. GCC Pressure Sensor Market, 2016-2026 (USD Million)
6.7.5. Rest of Middle East & Africa Pressure Sensor Market, 2016-2026 (USD Million)
Chapter 7 Competitive Intelligence
7.1. Top 5 Players Comparison
7.2. Market Positioning of Key Players, 2018
7.3. Market Players Mapping
7.3.1. By Type
7.3.2. By Technology
7.3.3. By Application
7.3.4. By Region
7.4. Strategies Adopted by Key Market Players
7.5. Recent Developments in the Market
7.5.1. Mergers & Acquisitions, Partnership, New Product Developments
Chapter 8 Company Profiles
8.1. ABB Company
8.1.1. ABB Company Overview
8.1.2. ABB Company Product Portfolio
8.1.3. ABB Company Financial Overview
8.1.4. ABB Company News/Recent Developments
8.2. Emerson Electric
8.2.1. Emerson Electric Overview
8.2.2. Emerson Electric Product Portfolio
8.2.3. Emerson Electric Financial Overview
8.2.4. Emerson Electric News/Recent Developments
8.3. General Electric
8.3.1. General Electric Overview
8.3.2. General Electric Product Portfolio
8.3.3. General Electric Financial Overview
8.3.4. General Electric News/Recent Developments
8.4. Honeywell
8.4.1. Honeywell Overview
8.4.2. Honeywell Product Portfolio
8.4.3. Honeywell Financial Overview
8.4.4. Honeywell News/Recent Developments
8.5. Infineon Technologies
8.5.1. Infineon Technologies Overview
8.5.2. Infineon Technologies Product Portfolio
8.5.3. Infineon Technologies Financial Overview
8.5.4. Infineon Technologies News/Recent Developments
8.6. NXP Semiconductors
8.6.1. NXP Semiconductors Overview
8.6.2. NXP Semiconductors Product Portfolio
8.6.3. NXP Semiconductors Financial Overview
8.6.4. NXP Semiconductors News/Recent Developments
8.7. STMicroelectronics
8.7.1. STMicroelectronics Overview
8.7.2. STMicroelectronics Product Portfolio
8.7.3. STMicroelectronics Financial Overview
8.7.4. STMicroelectronics News/Recent Developments
8.8. Robert Bosch
8.8.1. Robert Bosch Overview
8.8.2. Robert Bosch Product Portfolio
8.8.3. Robert Bosch Financial Overview
8.8.4. Robert Bosch News/Recent Developments
8.9. Siemens
8.9.1. Siemens Overview
8.9.2. Siemens Product Portfolio
8.9.3. Siemens Financial Overview
8.9.4. Siemens News/Recent Developments
8.10. TE Connectivity
8.10.1. TE Connectivity Overview
8.10.2. TE Connectivity Product Portfolio
8.10.3. TE Connectivity Financial Overview
8.10.4. TE Connectivity News/Recent Developments
Chapter 9 Preface
9.1. Data Triangulation
9.2. Research Methodology
9.2.1. Technology I – Secondary Research
9.2.2. Technology II – Primary Research
9.2.3. Technology III – Expert Panel Review
9.2.4. Approach Adopted
9.2.4.1. Top-Down Approach
9.2.4.2. Bottom-Up Approach
9.2.5. Supply- Demand side
9.2.6. Breakup of the Primary Profiles