Global LoRaWAN Market Ecosystem; By Network Deployment, By Hardware, By Application, By End-User (Agriculture, Utilities, Consumer Electronics, Healthcare, Manufacturing, Others (Transportation, Logistics, Government)); By Region - Forecast to 2026
|
|
Category : Information Technology
|
Report Format:




The Global LoRaWaN market is also known as Low-Power Wide-Area Network (LPWAN). This is a significant technology to fulfil a broader set of verticals, starting from Assisted Living, Livestock Tracking, Smart Healthcare Devices, Asset Tracking, Waste Management, industrial safety monitoring, and the growing Smart City demands. However, key advantages of the Global LoRaWAN market such as better power efficiency, and range and easy deployment will drive LoRaWAN technology penetration on the back of IoT ecosystem.
The Global LoRaWAN Market was valued at US$ 253 Mn in 2018 and is projected to reach US$ 5557.2 Mn by 2026, growing at a CAGR of 48.2% from 2019 to 2026. The factors that are driving the growth of the global LoRaWAN market is growing demand for low power wide area network in IoT devices and smart cities, and a rise in the adoption of LoRaWAN® across various industry verticals like Utilities, Manufacturing, Healthcare, Logistics, etc.
The key players in the market offering solutions by using LoRaWAN standards are public/private network providers, device manufacturers, and solution providers.
Figure 1: Ecosystem Snapshot: Global LoRaWaN Market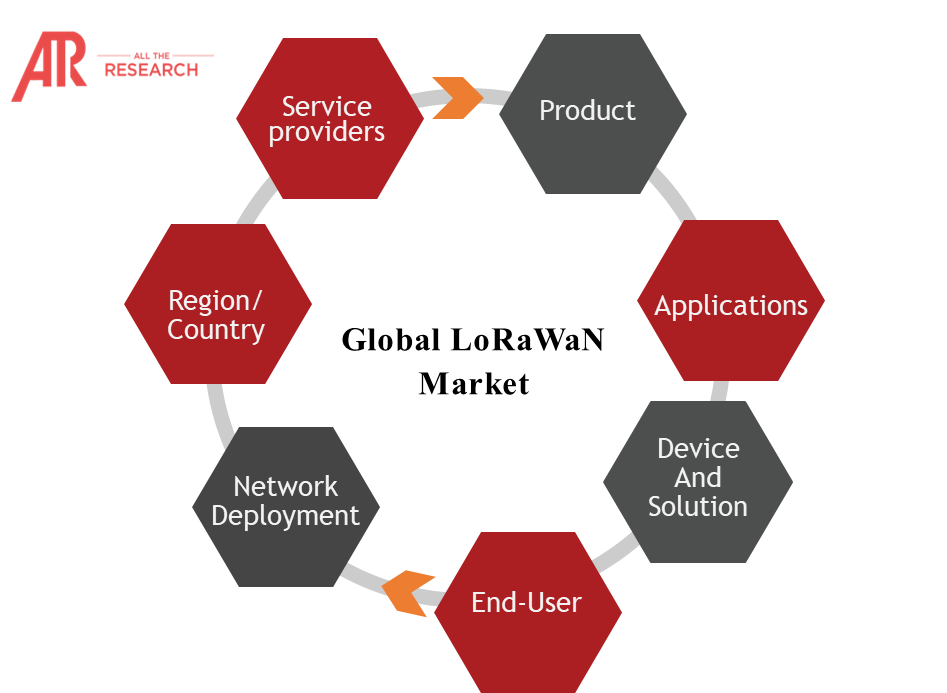 The global LoRaWAN Market has developed as the fastest growing Internet of Things (IoT) communication technology with the robust growth in the adoption of the IoT technology. LoRaWAN® is a Low Power Wide Area Network and is primarily based on a highly secured wireless technology dedicated to IoT networks. It operates seamlessly in extreme environments, with low power and throughput requirements. The global LoRaWAN market has some essential features, due to which they are highly being adopted across various industries. The open standard makes LoRaWAN® desirable for various industrial, commercial, and domestic applications where IoT solutions are the future. The growing ecosystem of LoRaWAN® technology providers, mainly from network operators and system integrators, to manufacturers of IoT devices, gateways, end nodes, and sensors, will continue to drive the adoption of both LoRa and LoRaWAN®.
Figure 2: Global LoRaWaN Market: Segmentation
| | | | |
| --- | --- | --- | --- |
| By Network Deployment | By Hardware | By Application | By End-Users |
| Public Network | End-Point Sensors | Asset Tracking | Agriculture |
| Private Network | Connectivity Modules | Smart Metering | Utilities |
| Hybrid Network | Networking Gateways | Smart Parking | Consumer Electronics |
| | | Smart Waste Management | Healthcare |
| | | Smart Building | Manufacturing |
| | | Others | Others (Transportation, Logistics, Government) |
The North America LoRaWAN® market has been experiencing significant growth over the years owing to the rapid installation of smart meters in the region. The increasing scarcity of water has resulted in a rise in demand for water to be utilized in a more controlled manner and thereby, avoid wastage. The maintenance standards for the U.S water mains and the sewer systems are quite low. Leaking pipes result in larger volumes of water being wasted.
According to the United States Geologic Survey (USGS), it has been estimated that as much as 23 million cubic meters of water per day is wasted. In order to minimize these issues, several steps have been adopted by the government and private agencies. For instance, in the U.S., Northeast Nebraska Public Power District partnered with Vision Metering in 2017 to deploy smart meters. Northeast Nebraska Public Power District is the first utility to deploy the company's electric meters equipped with the LoRaWAN® IoT communications technology.
Future Prospect
The U.S. cellular announced in 2018 that it would team up with IoT America in order to sell IoT services, primarily to agricultural companies across 23-states. IoT America's business relies on LoRaWAN® network technology. This initiative will generate considerable opportunities for the U.S to adopt LoRaWAN® network for the agricultural sector in the coming years.
Figure 3 – Market Statistics Glimpse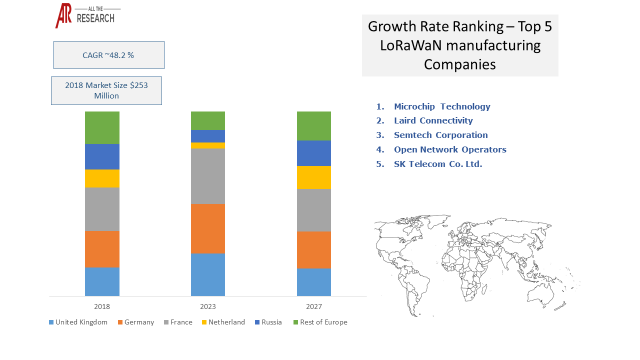 Many trends are having an impact on the market forecast. These, when evaluated from a company's perspective, can drive growth. Our numerous consulting projects have generated sizeable synergies across all regions and all sizes of companies.
The major players operating in the Global LoRaWaN Market are as follows:
Table 2 Global LoRaWaN Market Ecosystem: Key Players
| Company | Ecosystem Positioning | Total Revenue | Region |
| --- | --- | --- | --- |
| Microchip Technology | Product Manufacturing | $ 5.4 Bn | Global |
| Laird Connectivity | Product Manufacturing | $ 10.5 Bn | Global |
| Semtech Corporation | Product Manufacturing | $ 627 Mn | Global |
| Orange S.A. | Product Manufacturing | $ 46.8 Bn | Global |
| SK Telecom Co. Ltd. | Product Manufacturing | $ 13.8 Bn | Global |
Very few markets have the interconnectivity with other markets like LoRaWaN. Our Interconnectivity module focuses on the key nodes of heterogeneous markets in detail. Public Network and Private Network, Connectivity Modules, and Networking Gateways are some of our key researched markets.
Figure 4 – Global LoRaWaN Market Major Interconnectivity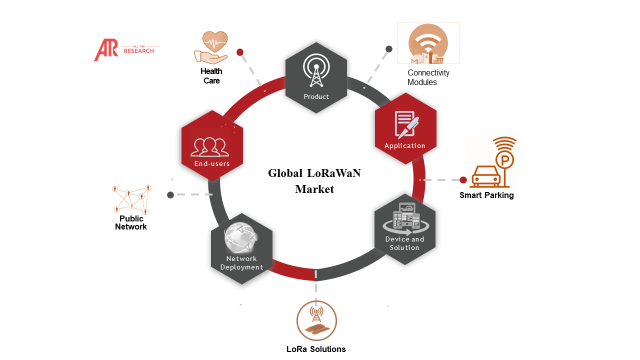 A Glance on Global LoRaWaN Market Ecosystem Trends:
| | | | | |
| --- | --- | --- | --- | --- |
| Trends | By Network Deployment | By Hardware | By Application | By End-Users |
| Aguascalientes Will Become the First City in Mexico to Use LoRa Network for the Industry. The Aim is to become a state that generates innovation projects in the field of the Internet of Things (IoT) and Industry 4.0 | | Networking Gateways | | Utilities |
| The growing number of city infrastructure or other IoT systems that are spread over a much wider area; sensors can be located at distances of kilometers rather than meters from the nearest gateway. These long distances call for a different type of wireless communications solution. Two approaches are available; one based on cellular technology, the other on low-power wide area networks (LPWANs), especially LoRaWAN and SigFox. | Public Network | Connectivity Modules | | |
| With more than 127 million residents, Mexico is one of the most important countries in the North America region, and this rollout is the start of new milestones for the IoT in North America | Private Network | | Smart Building | |
Need specific market information ?
Ecosystem Report – Table of Content
Introduction

Global LoRaWan Market Definition
Scope of study
Research Methodology
Assumptions/ Inferences
Sources

Primary Interviews
Secondary Sources

Key Secondary Webpages
Whitepapers
Annual Reports
Investor/Analyst Presentations

About FABRIC

Executive Summary
Ecosystem Positioning
Global LoRaWan Market Ecosystem Snapshot

Global LoRaWan Market Segmentation

By Technology

UVC technology
HPV technology

By End-User

Hospital
Research Institution
Others

Global LoRaWan Market Ecosystem Broad Heads

Competitive Landscape Mapping by Ecosystem Positioning

Company by each node
Vendor Landscaping

Ecosystem Level Analysis
Trend Analysis
Global LoRaWan Market Trends

Short Term

Trend Description
Trend Evaluation
Trend Outlook
Trend Company Mapping
Related Global LoRaWan Market Mapping
Trend Region/Country Mapping

Mid Term

Trend Description
Trend Evaluation
Trend Outlook
Trend Company Mapping
Related Global LoRaWan Market Mapping
Trend Region/Country Mapping

Long Term

Trend Description
Trend Evaluation
Trend Outlook
Trend Company Mapping
Related Global LoRaWan Market Mapping
Trend Region/Country Mapping
Global LoRaWan Market Analysis
Regulatory Analysis
Global LoRaWan Market Developments
Global LoRaWan Market Events & Rationale

R&D, Technology and Innovation
Business & Corporate advancements
M&A, JVs/Partnerships
Political, Macro-economic, Regulatory
Awards & Recognition
Others
Global LoRaWan Market Sizing, Volume and ASP Analysis & Forecast
Global LoRaWan Market Sizing & Volume

Cross-segmentation
Global LoRaWan Market Sizing and Global LoRaWan Market Forecast
Global LoRaWan Market Volume Analysis
Average Selling Price Analysis
Global LoRaWan Market Growth Analysis
Competitive Intelligence
Competitive Intelligence

Top Industry Players vs Trend Tagging

Importance
Trend Nature (Positive/ Negative)
Value
Interconnectivity for each vendor

Global LoRaWan Market Share Analysis

By Each Node

Strategies Adopted by Global LoRaWan Market participants

Global LoRaWan Market Strategies
New product launch Strategies
Geographic Expansion Strategies
Product-line Expansion Strategies
Operational / Efficiency building Strategies
Other Strategies
Company Profiles
Company Profiles - including the:

Murata Manufacturing

Company Fundamentals
Subsidiaries list
Share Holding Pattern
Key Employees and Board of Directors
Financial Analysis

Financial Summary
Ratio Analysis
Valuation Metrics

Product & Services
Client & Strategies
Ecosystem Presence
SWOT
Trends Mapping
Analyst Views

Link Labs
Microchip Technology
Laird Connectivity
Semtech Corporation
Open Network Operators
SK Telecom Co. Ltd.
Tata Communications Ltd.
Orange S.A.
Senet, Inc.
Comcast Corporation
Customizations
Ask for Customization

Sensitivity Analysis
TAM SAM SOM Analysis
Other Customization

Appendix

Sources
Assumptions
Contact